By Alexander Bruzual
September 13, 2011 – newsday.co.tt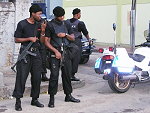 It was an exuberant moment in the Port-of-Spain Magistrates' Eighth Court yesterday morning when charges against 21 men accused of being gang members were dismissed by Chief Magistrate Marcia Ayers-Caesar.
The courtroom erupted in loud cheering, clapping, and words of thanks to both God and the Chief Magistrate after it was announced that the 21 men were free to go.

Court and Process police officers were forced to step in to quell the loud reactions of the relatives and the accused men, reminding them that they were in a courtroom. However, these warnings were initially ignored as most persons found it difficult to contain their excitement.
Newton Pollard, Gerard Samuel, Nigel Tridge, Akeem Guerra, Anthony Darmanie, Christopher Richardson, Derek Miller, Atiba Gorkin, Andy Issac, David Williams, Kevin Myler, Jules Eligan, Edwin Trotman, Akeil Ash, Winston Wilson, Jabari Martinez, Anthony Armstrong, Simba Cobas, Kareem Myer, Ronald Cobham, and Akiel Joseph, all returned to court yesterday morning for another court hearing of their cases.
They were arrested in Port-of-Spain during a police exercise on August 23, two days after the declaration of the state of emergency on August 21, and charged for being members of the Nelson Street Gang.
They were charged in accordance to section 5(1) of the Anti-Gang Act 10:11, which states that:
"It is hereby declared that gangs are unlawful and any person — (a) who is a member of a gang commits an offence and is liable on summary conviction to imprisonment for ten years and on any subsequent conviction on indictment to imprisonment for twenty years."
Any person charged under this Act would be remanded in custody until their matter was completed, or until the passing of 120 days after which they could apply for bail.
The men, who were between ages 19 and 63, were represented by a team of attorneys including Ian Brooks, Mario Merritt, Vince Charles, and Criston J Williams.
At yesterday's hearing, it was a tense moment as Director of Public Prosecutions (DPP) Roger Gaspard and State Prosecutor George Busby walked into the courtroom and announced they would be representing the State.
Gaspard told the court that he had perused the relative files concerning the persons charged for being members of the Nelson Street Gang, and after careful deliberation he was unable to find any items of evidential value for prosecution against the men.
"In these circumstances, the prosecution will not be able to produce any evidence against these men and as a result we will not be proceeding with these matters," Gaspard announced.
Cheers immediately erupted in the court from the accused and their relatives in the public gallery.
After a while, when order was restored in the court, Ian Brooks was the first defence attorney to thank the court for Gaspard's intervention.
"I must thank the DPP for his role, for what he has done here. He has brought an end to such a sad occasion in Trinidad and Tobago," Brooks noted. Similar statements of thanks came from Charles and Williams on behalf of their clients.
However, it was attorney Mario Merritt who, while thanking the DPP for his intervention, asked Gaspard to exercise similar expedience in relation to other persons charged under the Anti-Gang Act.
"There are other persons in similar situations who are also suffering. Hundreds of persons have been charged under this Act since the implementation of the state of emergency, and they are suffering, their families are suffering, as they are charged and incarcerated (under the Act) without any evidence," Merritt noted.
After further submissions from defence attorneys, the Chief Magistrate, addressed the 21men, "The DPP is discontinuing the case against you. The charges have been dismissed. You are free to go."
Within ten minutes of the announcement, the 21 men were released and were happily hugging their relatives and attorneys outside the court's entrance along St Vincent Street. "All I can say is thank God right now. They held my son for no reason, and then all of a sudden we heard he was charged for being a gang member when he wasn't. Then to come to court and hear that his freedoms were gone," said one woman outside the court.
"They charge him under some law where he couldn't get bail, and then they only keep adjourning the matter over and over. It was heart wrenching for my family, but it is so good to know that it is finally over, and that justice does work," she added.
http://www.newsday.co.tt/news/0,147139.html