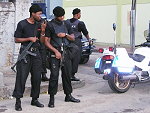 Minor Violator
"I could not sleep last night. I just want to say I am sorry to the Prime Minister (Kamla Persad-Bissessar) for insulting her like that. I am sorry for the language, I am sorry for all the racist stuff I said. I do not really care about racist things because I am not racist, I do not really look at it like that but I am just real sorry."
The above apology was made and posted on Facebook by a teenager, who is the subject of a police investigation in relation to a previous video she had created.

…Teen in Facebook threat apologises, but Ball now in DPP's court says AG
…Teen apologises on Facebook for Kamla threat
ATTORNEY General Anand Ramlogan yesterday urged the YouTube user who posted a video which contained threats to Prime Minister Kamla Persad-Bissessar to surrender to the police, after the user issued an apology in another video.
…AG to Kamla hater: Surrender to cops
More State of Emergency News
Doctors still await curfew passes
Doctors have still not been issued curfew passes, more than a week after the State of Emergency (SoE) was declared in the country.
AG: Stiffer penalties for curfew breakers
CITIZENS who are found outdoors in any of the six curfew-restricted areas could now face a maximum fine of $3,000 and six months' imprisonment.
3 men get curfew fines
THE want for a cigarette to smoke, was an excuse given on Friday last by one of three men charged for breaching the curfew hours. Each men were fined $500 when the appeared in the San Fernando Magistrates' Court before Senior Magistrate Rajendra Rambachan.
Ghany queries 'limited' in emergency
Lara: Don't use my name for detention centre
Former West Indies cricket captain Brian Lara has called on the media to immediately stop using his name in connection with the proposed detention centre at the stadium in Tarouba.
Fr Harvey says: Publish names of detainees
A Roman Catholic priest is calling on Government to immediately publish the names of people detained during the current State of Emergency in Trinidad and Tobago.
Kamla: No extension of curfew in South
There will be no extension of the curfew to southern areas of Trinidad, Prime Minister Kamla Persad-Bissessar said yesterday.
Roadside scrapyards 'under the gun'
The Defence Force and other state agencies yesterday confiscated copper and cleaned up Beetham Estate's scrap iron businesses following information that guns are being hidden in the scrap iron and are also being manufactured from the iron.
Soldiers clean up Beetham
ATTORNEY GENERAL Anand Ramlogan yesterday said the security forces have targeted scrap iron yards throughout the country as part of a major operation against criminal elements during the current state of emergency.
Rowley: Govt must not use its power for ulterior motives
Opposition Leader Dr Keith Rowley said Government had to be sure and clear that the powers it has assumed under the Emergency Act as a national security matter are not abused for other purposes, no matter how legitimate it might be.
It's a war on crime and nothing else says PM
Unions have nothing to fear
THE Joint Trade Union Movement has nothing to fear during the State imposed state of emergency, once they operate within the confines of the law, Minister in the Ministry of Labour, Rudy Indarsingh, a former trade unionist, has stated.
We back state of emergency
SEVERAL regional corporations and individual councillors have voiced expressions of acceptance and approval for the state of emergency and ensuing 9 pm to 5 am curfew imposed in designated crime "hot spots" across regional corporations in the country.
TOP leader supports State of Emergency
What's the objective, asks Hotel & Tourism Association president
Gangs get warning from Sandy
GANG members who have been plotting to wage war against law enforcement agencies in retaliation for their arrest under the State of Emergency are being warned that such actions are not wise.
Detainee takes legal action
CUTHBERT LEE, the alleged gang leader from Trinidad who was said to have been arrested by law enforcement officials while hiding out in Tobago, has taken legal action against the State.
Mother: What did my sons do to be arrested?
A Pleasantville mother is accusing the police of using the current State of Emergency to terrorise her family.
Subhas: Review anti-gang law
FORMER minister in the Ministry of National Security Subhas Panday has described the Anit-Gang Legislation as severe, as he admitted there were loopholes in the law that could lead to people being abused…
Powers of Police and Army clarified
Emergency Powers Regulations 2011
EOC clears air on complaints
No person arrested during the state of emergency may file a complaint against the State with the Equal Opportunity Commission (EOC) on the ground that he/she was discriminated against because of where he/she lives.
Shotgun, pistols recovered
DURING a 12-hour exercise in the Western Division on Saturday, officers recovered a 12-guage pump action shotgun and two Ruger pistols with 18 rounds of 'live' ammunition. Twenty persons were also arrested on various offences.
Sandy not happy with number of guns found
National Security Minister John Sandy is not satisfied that only 15 guns have been confiscated in the crime clean-up operations so far.
Michael Harris: Unleashing the whirlwind
What there was, was a knee-jerk reaction to a sudden spike in murders and a fear that her Government, already being challenged for its incompetence and its ineptitude, would suffer more political blows if it were to be perceived by the population that this latest upsurge in crime were to have gone unanswered.
Soldiers' families beaten
ON THE heels of allegations of soldier brutality last Thursday in Forres Park, Claxton Bay comes allegations of another beating at the hands of soldiers, this time inside a pub in South Oropouche on Saturday. Among those beaten, it was reported, were the wife and daughter of a soldier.
Attorney threatens to sue 'Newsday' over PSC story
POLICE Service Commission (PSC) member attorney Martin George has threatened to sue Newsday for defamation of character following an article which claimed he was responsible for issuing a press release from the PSC which led to confusion surrounding the current curfew.
Emergency strategies for a brighter future
Another gang leader arrested
SENIOR POLICE officers of the Southern, Northern and North Eastern Divisions yesterday commended their respective officers for their "unremitting fight against criminal elements and their activities".
Different 'airing' time for gangsters
ALLEGED gang members currently detained at the Golden Grove Prison in Arouca are being given separate "airing times" (time out of their cell) compared to the regular prisoner body.
21st Century thinking
Last Wednesday's sod turning ceremony by Prime Minister Kamla Persad-Bissessar marking the start of construction of a new $35 million Arima Police Station which in turn heralds the planned direction of 17 additional stations will provide not only a more timely response and greater security for citizens but for better accommodation and peace of mind for the police officers manning them.
Search on for patrol vessels
ALMOST one year after the People's Partnership Government cancelled a contract to purchase three Offshore Patrol Vessels (OPVs) from a British ship-building firm, the search is now on for "patrol vessels of proven design for the Trinidad and Tobago Defence Force (Coast Guard)".