By Raffique Shah
October 12, 2023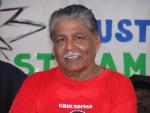 Finance Minister Colm Imbert is too experienced in Cabinet to not know when he fixed the new minimum wage per hour—TT$20.50—he was, in fact, proclaiming a not-so-new maximum wage.
During my years as an active trade unionist, I became all too familiar with this legitimate, lawful reaction of many employers, mostly in the commercial, agricultural and some heartless manufacturers, stating to anyone who seeks employment with them, "You will be paid government's rates…that is, $20.50 an hour, $164 a day for daily paid and roughly $3,300 for the month."

At first glance, this amount may seem to be adequate compensation for an adult male or female who is a general labourer, or who has no special skills. It will not be taxed by government since it's below the PAYE threshold. If the employer is generous, he may add NIS contributions for his workers which will add security to their terms of employment. Bear in mind, they too will have to contribute to coverage under the NIS. On the surface, a new minimum wage may have the psychological effect of putting establishments that comply in the humane zone.
There are other parameters that one would expect to be the norm in the modern world. For example, even where the workers are not unionised, employers would introduce paid annual leave and regulated healthcare, maybe even jointly with workers.
For all the modernity and as civilised as we claim to be, there remain far too many Dickensian capitalists who think nothing of operating modern-day sweat shops, work and environments that are punishing and conditions that are slave-like.
We may think the world and our country are far too advanced to allow for such inhumane conditions to even seep into workplaces, far less be the dominant modus operandi. Yet, there are employers who abuse their dollar-power and still demand respect from the people whose labour they exploit. Sadly, their labour is all they have to sell to eke out a meagre living, survive inflation, price gouging and so much more.
I do not for a moment exclude productivity as part of the pact between labour and capital. This country has a notorious reputation for employing thousands of people who do nothing to earn whatever salaries they may be paid.
This is more prevalent in the public sector than in the private sector; but whatever and wherever they may be, I do not condone laziness as part of our culture. It must be rooted out as we seek to transform our economy from dependency on hydrocarbons to manufacturing, food production and technology.
There can be no room for low or no productivity, as is the norm with CEPEP, URP and other similar State-dependent agencies or industries that render them useless if we are to move forward. This laziness must cease, now. I haven't yet addressed the many skilled and hard-working labourers and engineers, especially in the oil industry in which we have more than 100 years of experience.
In the early 1970s, at AMOCO's Staff Complex in Mayaro, I encountered a national of this country who had developed a system of "sucking up" sand that was better and more applicable to his employers. I think his name was Rolf Sankar. AMOCO named one road in the complex SandSucker Road, in honour of this son of our soil.
In energy sector operations across the world, from exploring to refining and anything under and above, you are sure to find a Trini. On land or sea installations, from Mexico to Germany, Indonesia to Australia, you're sure to find a Trini. Besides their wealth of skills and knowledge, they stand out because of their work ethic: yes, the very thing we cuss them for not applying here is what they are paid handsomely for and give every drop of sweat to enjoy a comfortable life.
Trinidad and Tobago faces humongous challenges—not just in the energy sector, but in overall performance on jobs, and our ratings have not been exemplary. It is not that we cannot do better, it is just knowing we can get away with shoddy work and, more importantly, "our" party is in control of government, therefore we do not need to be productive. We just need to say the right thing, do the wrong things, and our pay and promotions will follow.
That, my friends, is the elephant in the boardrooms, workshops and productive fields and few will dare speak out against this nonsense. It cannot be that you give your best only when your party is in power. You give your best at all times, especially when you are paid by taxpayers. There are no more timeouts before we make change.