By Dr Selwyn R. Cudjoe
October 02, 2023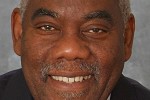 I am always elated with seemingly little, obscure people—that is, people who are not in the spotlight—when they are recognised for the contributions they make to the civic, social and political development of our society. I felt that way when Ashton Ford was honoured with Hummingbird Silver last Sunday. He thoroughly deserved it. This suggested that a person can be involved in political and social work and still remain a decent human being.

I met Ashton Ford in 1988 when he worked out of the opposition office on St Vincent Street and I was assisting then Prime Minister Patrick Manning with certain political matters.
Ashton, a quiet, studious person, carried out his work with aplomb. He was a meticulous worker who was purposeful in everything he did. He offered his opinion only when it was asked for, but he possessed plenty of them (opinions). He was always was a fount of wisdom.
I had heard of Ford's meteoric rise as a young politician. He became the mayor of Arima when he was 29 years old and served in that position for 18 months. I also heard of the wonderful things he had done for Arimians, particularly increasing the geographical boundaries of the borough from one to four square miles. But then, he was and is an Arimian at heart, always looking for ways to assist his fellow burghers.
Ford is a PNM member at heart, or better still, stands at the heart of the PNM. He learned his politics at the foot of the greatest of all the PNMites: Dr Eric E Williams. Lisa Morris Julian, MP for D'Abadie/O'Meara, writes, "During his formative years, Mr Ashton Ford spent a lot of time with his father, Charles Courtnay Ford, better known as CC Ford who was an active member of the People's National Movement and personal friend of the party's founder, Dr Eric Williams."
These early years were special, messianic political years for Ford. He revels in talking about his attendance at the PNM Saturday morning party school meetings that Williams conducted at Balisier House in the early 1970s. Williams dealt with issues of constitution reform, local and world history, and the responsibilities of party officials to the party and the country. Ford calls that period "the pivotal point in my political development".
Ford also served as the parliamentarian representative of Arima for five years in various capacities. After leaving parliament, he returned to his journalistic roots at the Trinidad and Tobago Mirror which his in-laws owned.
In 2004 he was assigned to the Trinidad and Tobago High Commission in London as Public Affairs, Culture and Tourism Attaché, a position he held for six years.
It was at the T&T High Commission that I met up with Ashton again. His interest in culture encouraged him to launch my book, Eric E Williams Speaks, at the Commission's Office. I remember the warm welcome he gave me and the laudable things he said about me and my book.
Glenda Morean-Phillip was the High Commissioner of the London office at the time. She invited me to a most sumptuous dinner at her official residence, one of the best buys that the T&T government ever made. Ulric Cross, one of the most admired Trinidadians, was also present at the luncheon.
A Trinidad jurist, he was recognised as "the most decorated West Indian of World War II" and was the subject of the film, Hero: The Extraordinary Life of Ulric Cross, that was directed by Frances-Anne Solomon.
After returning to Trinidad in 2010, Ford became the general secretary of the PNM—a position he held until February 2018. He was one of the most successful general secretaries following in the footsteps of Nicholas Simonette, Morris Marshall and Martin Joseph.
No one can think of PNM successes without mentioning the important roles these gentlemen played. Ford performed his duties arduously and well, which enabled the PNM to return to political power in 2015.
Arima has been an outstanding town in Trinidad since Queen Victoria declared it a borough in 1888. It has produced some of our finest talents: FEM Hosein, mayor of Arima who wrote Hyarima and the Saints (1931), "a Miracle Play", as Dr KS Wise called it; Lord Kitchener (Aldwyn Roberts), the Grand Master of Calypso, one of our finest calypsonians; Clytus Arnold Thomasos, one of T&T's outstanding poets, and the longest-serving Speaker of the House of Representatives (1961-1981); and Ralph Ernest Vignale, mayor of Arima for six consecutive terms (1935-1941). Thomasos is rightly called "Arima's most distinguished son".
Ford joined this company last Sunday when he was awarded the Hummingbird Medal, an honour he rightly deserves. Neil Giuseppi, former head of news at T&T Television, and an Arimian, writes: "Ashton Ford is a citizen of whom all Arimians are extremely proud.
"They have recognised his commitment, not only to the borough of Arima but also to the overall development of Trinidad and Tobago… [He] is a straightforward and hard-working individual who has committed his life to the service of his country. He is an epitome of a patriotic leader that placed people before politics."
Ashton Ford is one of our most eminent citizens. I hope that the country is always blessed with leader-statesmen of his calibre and sterling character.