By Raffique Shah
September 27, 2023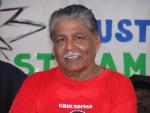 It was a chance encounter with one of only a handful of books on the contemporary history of Trinidad and Tobago that triggered memo­ries of another time, another day. I refer to the late Owen Baptiste's publication, Crisis. Owen published that book in 1978, shortly after he quit the mainstream news­papers.
A bit of nostalgia struck me: I had to re-read something in it, and I thought why not the beginning. I should add that the front cover carries a photograph of three policemen dressed for internal security operations, wearing the then-traditional anti-riot garments and equipment.

The respirators that covered their noses and mouths, and the long riot batons in their hands signal to the reader that this was no ordinary assignment. In fact, the book focuses heavily on what we trade unionists of that era call "Bloody Tuesday"—March 18, 1975.
Upon opening the book and reading the introduction, memories of that fateful day in our history almost choked me because I knew the story so well since I had authored most of it. In retrospect, I couldn't believe that the PNM in government at the time could bungle the handling of what was a strike by workers and farmers in the oil and sugar industries.
Few people would know that the march we were supposed to undertake from San Fernando to Port of Spain was literally an "accidental" event. The executive committee of the United Labour Front, which comprised people such as George Weekes, Basdeo Panday, Joe Young and me, had never discussed it as an option.
Panday had gone into Port of Spain on some business and reporters who happened to be covering whatever the event was asked him: what's next? Meaning, what the ULF had planned to do to further their struggle for increased wages and better working conditions for the oil and sugar workers and better ­prices for farmers' cane, which were the stated reasons for our coming together and pursuing goals that could benefit all workers.
Already on February 18, 1975, the group had held a rally in Skinner's Park that had ­attracted a humongous crowd. People who followed politics and workers' struggles in Trinidad thought it was the biggest crowd ever to gather at that venue. The 15,000-plus attendees had brought the main sugar factories, the farmers' purchasing points and some other work places to a standstill. That day, we had called out oil workers but not on a full strike because we were mindful that a strike in the oil industry was a very serious matter.
Panday would later tell us that he was stumped when the journalist asked him what next? In what has become his trademark reaction, he shouted back, "We shall march… we shall march from San Fernando to Port of Spain."
The following day both dailies ran with the headline, "ULF to March to Port of Spain". The full committee found itself in an awkward position. Public marches were illegal. One had to seek permission from the police commissioner who had to be given ade­quate notice and details of time, route, etc. To back down could make us look weak and so it was, Panday got us to endorse this illegal action and planned how we were to execute it.
Before the appointed day, Commissioner Tony May's strong notification that no permission had been granted and that his officers would break up any gathering or march with full force failed to deter at least 1,000 people who had assembled that morning at OWTU headquarters in San Fernando.
The police presence was menacing, with clubs, gas masks, riot shields, etc.
In the final minutes before we leaders came downstairs to lock arms and move forward, I had suggested one change in the route: instead of turning left at the top of the street in front of OWTU's building—heavily armed policemen lay in ambush at the Mon Repos junction at the by-pass—we would turn right and go through the heart of San Fernando.
That move surprised the police, who found themselves having to make several adjustments. By the time they caught up with us, we were already at the top of Coffee Street—the busiest point in the centre of the city.
It was there that Senior Superintendent Dennis Ramdwar ordered the marchers to stop. We leaders were in the front row and we complied. Weekes and Panday sought to talk with him on how we were going to disperse a now-swollen crowd, with large numbers of ordinary people joining in.
I noted that most of the officers who carried the batons were recruits, which made for a very dangerous situation since they would likely comply with full force to impress their bosses, which could be a bloody affair.
Before a word could be uttered, Ramdwar shouted, "Gas!"