By Stephen Kangal
July 17, 2023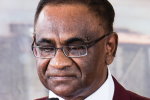 In an attempt to assess and conceptualise the varied life, exciting times and indeed the unique legacy and saga bequeathed to us by the late Prof Brinsley Samaroo, I can think of his odyssey of life as a solid platform that was supported by four event-filled but interlocking pillars.
The first pillar, in some chronological order is his Naparima–Presbyterian foundation and pillar that coloured, expressed and energised his entire odyssey from Ecclesvile, to San Fernando, St Augustine and to the rest of the world.

It is at Naparima in 1960 where he taught me geography that he kick-started his teaching career, where he formed and forged a solid life-long community of friends and came under, was driven and possessed by the powerful influences of the Naparima-Presbyterian Imperative.
The second pillar, is his overwhelming, groundbreaking and stellar contribution to the academic lives of his students and faculty members in addition to The UWI's extra-mural outreach to the many local and overseas communities that looked up to him in sheer admiration at his scholarship and historical research capabilities and drive.
He along with John La Guerre, Ken Parmasad, Winston Dookeran, Dr Jerome Teelucksingh et al pioneered the holding of seminal diasporic conferences that gave some intellectual impetus and status to Indian diasporic issues at The UWI.
The third pillar, is his foray into the challenging world of representational politics that was indeed a natural consequence of his endless intellectual justification and appeal in his writings and agitation for equality, justice, and defence of the rights of the grass-roots working class.
It is this concern for social justice that aligned him with Basdeo Panday (ULF) and ANR Robinson (NAR) that propelled him into the Senate and House as a Minister.
The fourth pillar, that really incubated at The UWI's many ground-breaking Conferences and took off during his retirement was his passion for local social history, Indian diasporic ferment and his pivotal role at the NCIC in hosting of Indian issues-based conferencing as well as being the catalyst for prolific production and display of Indian scholarly books and cultural proliferation and development at this cradle.
It is during this period post-2012 that he singularly established the Sugar Museum at Couva. This is a component of his life that is not well celebrated.
The late professor travelled the world to interact with his global cadre of academics as he was regarded as a most credible and knowledgeable expert on the Indian diasporic theme.
Each of these four pillars of achievements can be the subject of PhD theses celebrating the life of this noble patriot who was my mentor and iconic friend for 63 long years.
May he be accorded eternal rest and everlasting peace for his good and impeccable karma and love of humanity.