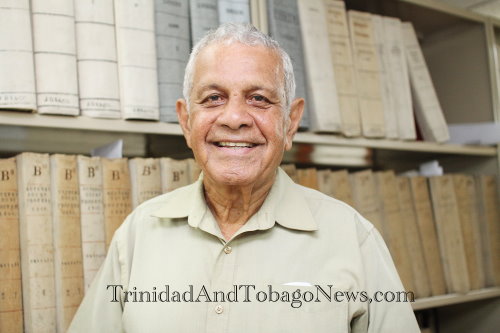 Historian and retired lecturer Prof Brinsley Samaroo
By Dr Tye Salandy
July 10, 2023
I first met Brinsley Samaroo many years ago on a radio programme where I brought up an aspect of race relations in Trinidad and Tobago that I thought his explanation was missing. He agreed with me, and we spoke for a long time following the programme. Since then we would talk closely over the years, and he would give me books and critical feedback on my work. In the years to follow, I would send countless students to Brinsley, and he would give all of them the same enthusiastic support, mentorship and guidance. He would go beyond the boundary to assist and was always willing to give helpful critiques. I would invite him to give guest lectures and he was always phenomenal, managing to push the boundaries of knowledge in a calm, serious, but witty way. We would joke about him living in the West Indiana section of the UWI library, because he would always be there. He had a space on a desk with all his research materials and notes, and he would be there almost every single day of the week the library was open. When I could not reach him on his phone I would go and find him there, along with many other visitors who would come there to find him.

Brinsley was serious and dedicated to his craft as a historian, and would spend hours and hours, day after day, for months looking through old newspapers and documents to inform his publications. Brinsley was a historian of the people… a masterful storyteller who could keep audiences captivated with his wit, his attention to historical detail and his first hand experiences of many landmark events in the nation's history. His father took him to listen to Uriah Butler speak, and he had numerous stories about this. As a young historian, he was called upon by NJAC in the lead up to the Black Power Uprising to talk about Indian and Caribbean history in communities around the country. For more than 50 years he gave service to the country in various roles: as a historian, UWI lecturer, an Opposition senator, MP, and government minister in the 1980s when he served as the Minister of Agriculture under the NAR government. He also served as the head of the History Department at UWI St Augustine. He had many stories about his time as a minister including the events leading up to the 1990 coup as well as insider details about what happened during the coup.
Brinsley wrote numerous books and articles spanning a diverse range of topics. He had a deep interest in working class movements so he wrote extensively on the Black Power movement and the 1930's Labour uprisings. He wrote about the Hondo Settlement, an African Muslim archaeological site, and he took students to tour Brigand Hill, an important site for African Maroons. He published books on Cola Rienzi, Eric Williams and Howard Nankivell. He wrote about the Canadian missionaries in Trinidad and how they sought to take Indians away from what they considered Oriental heathenism and into the Western, Christian norms. He challenged the erasure of women in the narratives of history and in his last years was working on an article that uncovered the role of women in the labour uprisings in the 1930s. He spoke frequently about women such as Elma Francois and Josephine Charles whose contribution to the labour movement he said are not recognized enough.
Brinsley added his historical expertise to talk about cartels in the food and agricultural sector, race and class relations in the country, women, politics, and agriculture. He was interested in African and Indian history and collaboration and found a way to emphasize this in his research into the uprisings of the 1930s and 1970s. Earlier this year we were on the same panel at a conference on the Black Power Movement, and he presented on the topic of "Betwixt and between: Eric Williams and the Black Power Revolution". As usual he was in fine form as he brought forward unique historical angles. One of my last moments with him was in the library where I had gone to see him. As usual he excitedly shared with me what he was working on. It was based on an old newspaper clipping mentioning Indians and Africans arriving to Trinidad on the same boat during Indentureship. These Africans joined the Indians as indentured workers on plantations. I have never come across this I told him.
He was a believer in the ability of Africans and Indians to transcend the hostilities and divisions coming from politicians, elites and colonialism. He encouraged students to think critically, to speak up boldly about issues facing the country and he led by example. He never shied away from speaking about racism, social inequalities, and the challenges facing the society. He was critical of the local elites and disconnection of the Government and encouraged people to be more vocal on the issues facing them. He expressed that the society is neglectful and unappreciative of its history and worked to correct that.
Professor Samaroo was a walking encyclopedia of Caribbean history, he would easily rattle off so much history that was often unique and profound. He could easily talk for hours about place names in Trinidad and Tobago, and where they came from, and what events they were connected to. He had so much to share on the Merikins, African Muslim history, African Caribbean history, the First Peoples, Indo Caribbean history, the 1930s labour uprisings, the Black Power movement, race relations and the origins of the oil and gas sector in Trinidad and Tobago. He lent his authoritative voice to many movements throughout the years, and was a frequent speaker in guest lectures, conferences and discussions. He was outspoken against the many colonial monuments in the country as he said that imperial ideas about racial and religious supremacy were translated into these monuments.
Professor Samaroo was one of the architects of the Sugar Museum and was deeply hurt when the government changed and the project was shelved. He was also a tireless advocate for the Buffalypso, which is indigenous to Trinidad and Tobago. He served on the Buffalypso committee and campaigned against the herd being destroyed.
Brinsley Samaroo was genuine in his support for people and provided mentorship and guidance for generations of students. He was unwavering in his belief in and support for students, ordinary people, vulnerable groups and Caribbean people. He was a strong advocate for the Caribbean. He spoke often about the Caribbean working class being perceived as being good only to be "hewers of wood and drawers of water" and much of his work was spent dispelling these ideas. He was a brilliant and tireless worker for truth and justice in a context where both are often so sorely missing. Brinsley Samaroo and I had several things we were working on jointly and so his passing deeply saddens me.