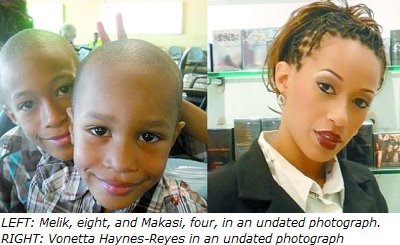 Husband finds wife and sons murdered
Residents of La Horquetta were in shock last night following the discovery of a 31-year-old mother and her two children, found dead with their throats slit open. The discovery was made by the woman's husband and father of the children. There were no arrests up to late last night.

MOM, TWO SONS SLAIN
By Alexander Bruzual and Darcel Choy
Friday, July 22 2011 – newsday.co.tt
The murders of a mother and her two young sons yesterday shocked the peaceful community of Plumbago Avenue, Phase Two, La Horquetta, where the family lived.
Vonetta Haynes-Reyes, 31, and her sons Malik, eight, and Makasi Reyes, five, were found dead by police who had been alerted by someone who went to the family's home yesterday afternoon.
Haynes-Reyes was a senior beauty advisor at Senses at Trincity Mall.
Police sources state that at about 3 pm, a person who knew the family visited the home and called Haynes-Reyes' cellphone and heard it ringing inside the house.
He knocked on the door but there was no response. He looked into the window and saw the body of one of the two boys on the floor.
The man called the police, and moments after, officers arrived and knocked down the locked door where they discovered the three bodies, reportedly with their throats slits. Upon their discovery, officers cordoned off the street, preventing any vehicle and pedestrian access.
Scores of curious residents gathered within the limits of the police barricade. While most persons didn't want to speak to reporters, those who did said they were terribly shocked by the murders and described Haynes-Reyes as a very peaceful, loving and quiet person.
The father of the two boys, Selvon Reyes, was notified of the killings and when he arrived he broke down in tears. He was taken inside a neighbour's home where he was comforted by friends and relatives.
Haynes-Reyes' uncle, Martin Mitchell, described her as "a very pretty and sweet woman who was very nice". Mitchell who described the incident as shocking said he was in Aranjuez collecting a package when he got the news. He then left the package on the pavement and made his way to the scene.
"The circumstances of this incident are very strange. I was told that at about 1 pm, neighbours saw a Nissan motor vehicle drive out of the yard and then the police told us that the door was locked," Mitchell said.
Police later reported the vehicle belonged to Haynes-Reyes. It was found in Carapo at about 9.30 pm
Earlier, Mitchell disclosed that Haynes-Reyes was looking forward to the upcoming marriage of her mother who lives in New York.
On her Facebook page, friends and relatives of Haynes-Reye expressed their horror about the killings.
One friend, Corty Corts, stated: "Three angels gone too soon! RIP and may God grant u eternal peace V."; while another, Melva Branch, said: "Just can't believe it, R.I.P, you will be missed by many."
A family friend Pauline Hazzard said the woman's mother, brother and sister were expected to leave on a flight last night from the United States to Trinidad to make preparations for the funeral.
Minister in the Ministry of the Office of the Prime Minister and MP for Arima Rodger Samuel was also on the scene as he lives a few streets away from where the murders took place. He said residents were stunned and hurt.
"You could never be comfortable with any loss of life because it naturally hurts us all. It is especially hurtful to us because this is normally a very quiet area and we are shocked that such a crime can take place…it's not what we are accustomed to and it's a very sad thing," he said.
He said he knew the family from seeing them walking along the streets but he did not know them personally.
At the time he didn't want to comment on any facts of the killings saying police were still investigating the case. When asked if Government was satisfied with their policies for crime he said, "As long as there is one murder, we can never be satisfied as one loss of life is too much."
Up till 10 pm, the crime scene investigators were still at the house searching for clues.
http://www.newsday.co.tt/news/0,144255.html
***
Mom, 2 sons throats slit in La Horquetta
A mother and her two young children were found murdered at their Plumbago Avenue, La Horquetta, home yesterday.