Analysis by Jennifer Viegas
Monday July 18, 2011 – discovery.com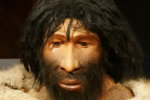 If your heritage is non-African, you are part Neanderthal, according to a new study in the July issue of Molecular Biology and Evolution. Discovery News has been reporting on human/Neanderthal interbreeding for some time now, so this latest research confirms earlier findings.

Damian Labuda of the University of Montreal's Department of Pediatrics and the CHU Sainte-Justine Research Center conducted the study with his colleagues. They determined some of the human X chromosome originates from Neanderthals, but only in people of non-African heritage.