By Raffique Shah
September 27, 2021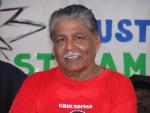 Last Sunday, dealing with the potential I saw in many of the young players who competed in the recently-concluded CPL T-20 cricket tournament, I introduced the issue of race in sports as highlighted by several Black American athletes who used the stage of the Mexico City Olympics in 1968 to confront racism head-on. I cited the iconic photograph of sprinters and 200-metres medallists Tommie Smith, who won the event in a new world record of 19.83 seconds, Australian Peter Norman who was second in 20.00, and John Carlos, who was third, also in 20.00. The fourth finisher was Trinidad & Tobago's Edwin Roberts, who clocked 20.30.

What we did not know at the time was that Norman had lent the pair of black gloves to Smith and Carlos, hence the one-right, one-left glove in the iconic photo of the men on the medal podium. Norman seemed detached from what was clearly an early display of Black Power at the Olympics, on an international stage. In fact, I believe it was also the first time the Games were telecast live, which made their protest all the more potent.
Carlos and Smith also felt the wrath of overlords of the Olympics. They were thrown out of the Athlete's Village at the Games and similarly debarred from all competitions that were staged by the US athletics' federation. That, however, was of little concern to the two best sprinters in the world at the time. They had fulfilled their commitment to their fellow—Black—athletes who had decided well before the Mexico Games to use every opportunity to highlight racism they faced in their own country, that in spite of using their talents to bring glory to it.
But while their protests at the Games had some impact, theirs was not the greatest achievement on the track and fields of competition. That distinction went to a 22-year-old long-jumper whose name was hardly known outside the 'jumps' fraternity, Bob Beamon. Beamon was mentored by the great Ralph Boston, the USA's champion in the event and several times world record holder, and the man who would harness Beamon's raw talent and turn it into one of the most spectacular feats in the annals of athletics. Beamon, I should add, had also agreed to join the protest for justice for Blacks. Like many of his teammates, he exposed black socks he wore on the medals' podium.
In the qualifying rounds, he almost fouled out by overstepping the board. Boston advised him to take off well before the line, confident that he would easily qualify. So said, so done. When he was about to make what would be his first leap in the finals, the conditions for him establishing a new world record were described as being 'perfect'. In high-altitude Mexico City, the air was 'thin', meaning it had less oxygen—which was good for sprinters and jumpers. There was a 'legal' wind from behind, and because he was unknown, there was no crowd-hype.
Beamon sprinted towards the take-off board like a man possessed. At the perfect point, he leapt forward, and for the small number of people watching, he seemed to fly in the sky for some six seconds, then landed. Everyone who knew anything about jumping instantly recognized they had witnessed a record-breaking performance, which was not unexpected. What no one anticipated was the distance of Beamon's leap.
Beamon would later say that upon landing, he instinctively watched the official with the flag: white or red? White. Good. So he waltzed off, joined Boston and others as they awaited the judges' pronouncement of distance. As minutes ticked by, and they saw the judges with a steel tape in their hands, they became anxious. Turned out that the automatic measuring devices did not cover where Beamon had landed. Then came the pronouncement: 8.9 metres (29 ft 2.25 inches).
After Ralph Boston 'translated' the metric measurement to feet-and-inches, Beamon understood that he has shattered his pal Boston's world record (8.35 metres or 27 ft 4.5 ins), set in 1965, by an incredible 55 cms, or 21 and three-quarter inches—close to two feet! He fainted from a seizure of sorts. It took the athletics world some time to come to terms with his incredible feat. That record stood for 23 years until Mike Powell broke it by a decent two inches in 1991.
In similar vein, I am awe struck every time I watch Cuba's Javier Sotomayor's record-making 1993 high jump of 8ft ¼ inch. The tall, athletic Afro-Cuban approaches the bar so delicately one would not believe he's about to jump higher than any other human being has to date. His record stands tall…er high.
Watch both these and other super-athletes performances via YouTube. Enjoy.