Loop News, June 03, 2021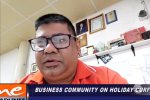 Fake news.
This is how Commissioner of Police Gary Griffith has described claims by Clint Arjoon, president of the Fyzabad Chamber of Industry and Commerce, regarding the alleged entry of Pfizer vaccines into the country.
On Wednesday, Arjoon alleged that the vaccines were brought into the country and were being administered to citizens via a private facility.

In a statement on Thursday, Commissioner Griffith said he ordered an investigation into the claims.
The investigation, he said, commenced with the Trinidad and Tobago Police Service contacting the businessman.
He said Deputy Commissioner of Police (Investigations and Intelligence), Mc Donald Jacob, reached out to the businessman personally.
Full Article : tt.loopnews.com