By Raffique Shah
May 31, 2021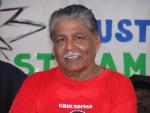 In the event that you may have just awakened from a Rip shocking it might seem to you, it's not just T&T; the world is at war…has been for almost one and a half years.
Just so you get right, we have already lost more than 400 lives in the war against Covid-19, with many more wounded, tens of thousands dislocated. Globally, some 3.5 million souls have returned to God, or wherever such poor buggers go, and mankind's forces have suffered an estimated 170 million light-to-moderate casualties.

You might well be convinced that I am reeling out some kind of sick joke on you, because when you look around, you see Trinis looking as easy as Sunday morning, or more appropriately, Jouvert morning, what with everyone wearing masks.
Well Breds, that is part of the problem, and none of them is part of the solution. Which is why I shook you awake, you being brethren from way back when, from the Black Power revolution, I thought I would awaken your spirit, stir your patriotism, seek your assistance. You see, today is Indian Arrival Day, which, as you may recall from your more active life, was a day on which the Jahaji Bhai would celebrate the arrival of Indians in T&T as indentured labourers in 1845. It was all part of finding their roots, just as descendants of African slaves were given Emancipation Day to mark the freedom of their ancestors here from bondage.
Well Breds, I so damn vex this Arrival morning, I feel like departing pronto, heading for anywhere else in the world that makes more sense that this mad house that is T&T. You know me. Since you went off to the hereunder (narrator points to a tombstone in the cemetery where he was 'conversing' with an unseen entity), numerous attempts have been made to bring the two ethnic groups in this country together. And every time they seemed to be getting there, some election would enter the scene, and it was 'apan jhat' all over again.
By now yuh boy near decrepit with the ravages of life, fed up with the divide and more so the divisiveness, not to add the dividers, ah looking like ah old, torn-up arithmetic copy book. When elections, the lure of office, pulled them together, the spoils of office tore them apart in short order. So I just looked in from the outside, yawned, and went back to slumber.
Until Covid struck! When the potency of this virus dawned on me, and we found ourselves going to war, having to fight the enemy not just in the North, the South, the East and the West, as General Patos rallied us, but up in the sky and even down in the Earth, so dangerous is this virus, Breds, you lucky you dead when you did! All now I couldn't talk with you. Is sealed lead coffins dey burying you in, Dread.
Anyway, it was clear for anyone to see that the nation had to unite to fight this beast. Well yuh boy happy. Ah say what man couldn't put together, Covid will do. So ah rock back and ah watching them, Government and opposition.
Apan jhat, same jhat…but now is pressure on them. Breds, would you believe these primitive politicians still find the time to fight more than unite. Dey clawing each other like jammettes on George Street. With that attitude, how could they muster the moral fortitude to ask their supporters to unite? Everybody calling for national unity—priest, police, criminals, white man, black man…
Breds, ah shame. Is who get vaccine first, who beg the Indian Prime Minister first, who see the virus first…like bloody children playing one-up. Big editorials in the newspapers calling on the politicians to 'unite in the interest of the nation' and other lavish terms. Dey 'ent have editors or commentators to study. Dey flinging mud at each other like long-time mud wrestlers. People dying, yuh boy wrote, politicians lying. Dey 'ent even see dat, far less read it.
So I thought, you know what? Let me rally dem boys from 1970, men and women who not only experienced the spirit of national unity, but lived it, made the word into flesh, in a manner of speaking. I thought if we could unleash the vengeance of Moko in their rear-ends, maybe, just maybe, we could get them to at least live with each other if not love one another.
Way yuh t'ink?
I t'ink yuh mad, Dread. And today, of all days? It go have men there who want to go back to Bojpur or Rangatoon. If yuh find their corresponding numbers on the opposite side, dey will dress fancier dan King Cophetua and Queen Nefertiti. I departing, Breds. And I eagerly await your arrival…we go talk…