By A. Hotep
August 15, 2020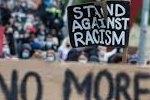 The Supermarket Association of Trinidad and Tobago (SATT), and by extension the business community, was never interested in addressing racism. Poor working conditions and poor remuneration packages are all part of class and racial discrimination which, at the very least, renders many members of the business community complicit. Now that people are prepared to take action to deal with racism, the business community should not be allowed to set the standard for redress. This was made clear by SATT's quick backpedalling of its boycott of Ramsaran-branded products after calling on the company to "[seek] the appropriate remedial action in a consistent and satisfactory manner." Aside from the Ramsaran's text-book apology and "firing" of the owner's daughter, how has the company demonstrated appropriate remedial action?

Business owners are attempting to hold the public to ransom: they claim that the public's boycott of their businesses, for their racist behaviours, will affect the livelihood of workers. Even if businesses lose revenue due to protest action and workers experience initial hardships, efforts to address and redress racism and other social ills, including their work conditions and salaries, would benefit workers in the long-term.
Owners of business should be made to meet with Black groups to discuss financing development in underprivileged communities. There should also be compulsory annual training for staff on equality and diversity, racism, inclusion, mental health, and other issues. Moreover, businesses should pay for counselling for owners, management, and staff when these issues arise. They should also address healing and education by giving employees access to occupational therapy and an effective HR department to address all grievances which occur within and outside the work environment that can affect both workers and companies. These are some of the ways that businesses can demonstrate remedial action beyond hollow apologies and "firings".
I am also not in support of the Commissioner of Police Gary Griffith's attempt to quell racist comments online and offline. A while back, he referred to people as cockroaches. He is part of the problem and should be condemned for using such a term to refer to anyone, regardless of how he perceives their conduct. This type of language emboldens the police to abuse their power, especially to commit extrajudicial killings in poor black communities. He should follow his own advice when he called on persons to "tone it down".
Another senior police officer in the press conference mentioned using the sedition laws to arrest persons who incite hatred. This should not be endorsed nor tolerated. The sedition laws should be repealed; they are backward colonial tools used to stifle efforts to seek change. Dr Tye Salandy adequately addresses this in an article (September 22, 2019), "Sedition and other Nonsensical Colonial Laws".
We must be mindful of those who were never interested in addressing racism now telling us what they feel is the appropriate redress.