Four Fifa executives accused by Lord Triesman are 'in the clear'
By Matt Scott in Zurich
guardian.co.uk, Sunday 29 May 2011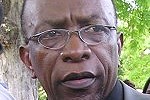 The four Fifa executive committee members accused of corruption by Lord Triesman have been cleared by a Football Association inquiry, according to the world governing body's interpretation of a 200-page dossier it was handed last week.
The FA commissioned Paul Dingemans QC to investigate the claims raised by Triesman under parliamentary privilege this month. Triesman, the former FA chairman, alleged that four Fifa executives asked for favours in return for voting for England's 2018 World Cup bid.

Triesman accused Jack Warner, Nicolas Leoz, Ricardo Teixeira and Worawi Makudi of "improper and unethical" conduct. But Fifa believes senior England 2018 figures have rejected those explosive claims. All four had denied wrongdoing.
Fifa's general secretary, Jérôme Valcke, said on Sunday: "I have just got the FA report – it's a big report, 200 pages – which we asked for after Triesman's allegations. I hope Fifa will agree to make it public because all the people here are completely cleared, so I'm glad the person appointed by the FA took time to hear not only Triesman but also David Dein, Simon Johnson, Andy Anson and other people who were part of the bid."
Triesman is understood not to withdraw anything he said under parliamentary privilege. He alleged that Warner had demanded assistance with building a football training facility in Trinidad worth $2.5m.
However, Sir Dave Richards, the former England 2018 board member who accompanied Triesman in the meeting with Warner, denied that Warner had solicited anything of the sort. This is an apparent contradiction of statements that Richards has made previously.
It was further alleged by Triesman that Leoz, who is the long-serving member of the South American confederation, Conmebol, requested a knighthood. But Dein, the international president of England 2018, Johnson, its chief operating officer, and Anson, the chief executive, could not corroborate that. Instead their evidence was that one of Leoz's entourage may have made such a request. Valcke said: "It never did come from Leoz directly."
Valcke introduced reference to the Dingemans dossier in response to a question about concerns raised in the Brazilian parliament about allegations of corruption surrounding Teixeira. "Speaking of other members and the process starting in Brazil, I can't say more about that," he said. "All the people here, especially Teixeira and [Thailand's Worawi] Makudi, they are completely clean of all the allegations."
The FA was not immediately available for comment, although one bid source said Valcke's reading of the report chimed with his understanding.
Meanwhile, allegations made under parliamentary privilege that Qatar's successful 2022 World Cup bid benefited from illicit payments to voters – claims it has vigorously denied – also appear unlikely to be proven. Fifa's president, Sepp Blatter, had raised the prospect of reopening the voting process for that World Cup.
But Blatter said: "This was not discussed at the ethics committee and the alleged payments made to two of our executive-committee members. There has been no information or evidence on that. We know a whislteblower made an allegation weeks ago but we have not yet had the chance to discuss these allegations against members."
http://www.guardian.co.uk/football/2011/may/29/fifa-lord-triesman
Report clears Exco members of Triesman claims, says FIFA
ZURICH: Four FIFA executive committee members accused by former English FA chairman David Triesman of seeking favours for votes have been cleared, soccer's governing body said on Sunday. Triesman, who ran both the English FA and its 2018 World Cup bid until last May, told a parliamentary inquiry this month that Jack Warner of Trinidad & Tobago, Nicolas Leoz of Paraguay, Ricardo Teixeira of Brazil and Worawi Makudi of Thailand had engaged in "improper and unethical" conduct. FIFA general secretary Jerome Valcke said on Sunday an independent report commissioned by the FA did not back up the allegations.