OFFICE OF THE PRIME MINISTER
13-15 ST. CLAIR AVENUE, ST. CLAIR
REPUBLIC OF TRINIDAD AND TOBAGO
MEDIA STATEMENT ON THE "PROVISIONAL SUSPENSION" OF JACK WARNER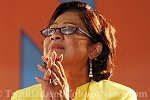 It is a fundamental tenet of the rule of law that a man is innocent until proven guilty.
This right is enshrined in the constitution of the republic of Trinidad and Tobago and is an important pillar in our system of justice.

And so, the decision by FIFA to initiate a "provisional suspension" of its Vice President Jack Warner, pending investigation is not a determination of guilt but part of a process that we trust will be fair and unprejudiced.
A "provisional suspension" is not to be equated with a finding of guilt, far less a sentence based on a finding of wrong doing.
The process must now be allowed to go its full course since as I said, a person is presumed innocent until proven guilty.
FIFA is an international sport body that is not part of the Government of Trinidad and Tobago; we therefore have no knowledge about its procedures and the dynamics of its unique internal politics.
It would be unfortunate if we made premature adverse judgement and pronouncement on a matter that is under investigation. This would be contrary to the spirit and letter of the laws of our land.
I am fully aware that events like this involving a Senior Cabinet Minister will be of immense concern to the people of Trinidad and Tobago.
Likewise, I am concerned by the allegations made and expect an update from Mr. Warner upon his return, which he has assured he will do.
At this time, there is no reason for me to arrive at any conclusion regarding the allegations made against Mr. Warner.
A 'son of our soil' who served this nation faithfully at that very football organisation and who was instrumental in leading Trinidad and Tobago to its very first World Cup qualification just a few years ago must be allowed every opportunity to present his case against the allegations made about him.
Consequently, at this time I will not prejudge the allegations against Minister Warner, and until there is evidence to the contrary, I stand by him.
Date: 29th May 2011
***
NEWS UPDATE: MAY 30, 2011
FIFA: THERE IS A CASE TO ANSWER
FIFA'S ETHICS committee yesterday suspended Works and Transport Minister Jack Warner from his football duties for one month after determining the FIFA vice-president had a case to answer in relation to allegations he offered bribes at Port-of-Spain's Hyatt Regency Hotel in May.
FIFA suspends Jack over bribery charges
PM: I stand by Jack
Prime Minister Kamla Persad-Bissessar said yesterday she was standing by her Cabinet Minister Jack Warner following his suspension from football activities by Zurich, Switzerland-based FIFA.
PM: I have not asked Jack to resign
PM: Warner innocent until proven guilty
Jack: I will defend my reputation
The following is Jack Warner's response after the FIFA Ethics Committee made its decision:
Warner's response to ethics ruling
I have learned this evening via the media that I have been provisionally suspended by the FIFA Ethics Committee. This has come both as a shock and surprise to me. At the conclusion of the enquiry I specifically requested that I be notified of any decision as I had learned via the media before attending the hearing that a decision would be handed down at 5 p.m. Despite leaving my contact details, up to this point, I still have not received any notification from the FIFA.
Jack responds to FIFA ruling: Abuse of process!
COP: He must step down as Minister
The party asked for Warner to step down as Works Minister pending the completion of FIFA's investigations.
'Give Warner time off to clear his name'
Local advocacy group FIXIN' T&T is asking Prime Minister Kamla Persad-Bissessar to relieve Works Minister Jack Warner of his ministerial duties so he has time to defend his reputation
How the deal went down
AS a FIFA ethics committee heard charges yesterday in Zurich in the money-for-votes scandal that rocked the governing body, details of the now-infamous Caribbean Football Union May 10-11 at the Hyatt Regency (Trinidad) hotel in Port of Spain, Trinidad, began to emerge.
What Panday, Imbert say
"Whether or not he is found guilty, he should not hold both posts at the same time (FIFA vice president and Works and Transport Minister)," Panday said.
Rowley: I warned you
"I told you so."
Transparency Institute: Warner must choose now
TTTI: Govt must protect country
Warner must demit office
Yesterday the FIFA Ethics Committee suspended Jack Warner for one month pending "full investigation" of bribery allegations brought against Warner by one of his colleagues, CONCACAF General Secretary Chuck Blazer. Also suspended for one month was fellow FIFA Executive Committee Member Sheik Mohammed Bin Hammam, who is President of the Asian Football Confederation.