GOPAUL ARE MY FRIENDS
By Darcel Choy
May 18, 2011 – newsday.co.tt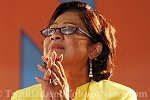 Prime Minister Kamla Persad-Bissessar yesterday said the owners of the house she stayed at on Maraj Street in Pasea, Tunapuna, during and after last year's general election, were her friends.
"We are not blood relatives, we are not related by blood, not by blood or marriage, they were friends," she said.
Speaking to members of the media after the opening of the Bon Air West Early Childhood Care and Education Centre, Persad-Bissessar confirmed she stayed at the home of Ralph and Maureen Gopaul.

Questions have arisen regarding the bid for a $40 million NP contract by the couple's family-run business Gopaul and Company Limited (GCL) which also owns the Tunapuna property.
The issue came to light after CDS Transport sent a pre-action protocol letter to Energy Minister Carolyn Seepersad-Bachan against the awarding of the contract to GCL. However, Seepersad-Bachan said the contract was not awarded to any company as yet. Persad-Bissessar said she has not spoken to the Gopaul family since the matter arose.
"People may not believe it, God's truth, I never spoke to them about this contract, nor did I ever speak to the board about this contract. I was unaware that they even tendered for the contract."
She assured she did not pay to rent, lease or buy the Tunapuna property, and the only cost to the State would have been for the security assigned to the house.
"I stayed there from time to time as I continued to stay at my private home. I stayed there some times in order to facilitate my public engagements in the North and had to be up late and early mornings… the only cost that might have come to the State the times I was there…would've had (to be) security personnel," she explained.
Persad-Bissessar noted she was staying with another relative prior to the election when she received death threats and her vehicle was stolen.
"I was then graciously allowed to stay at this home where it was enclosed. I stayed there before the election, I stayed there after the election. I did not go to rent a home, I know others rented homes or stayed in hotels," she said. When Newsday visited the house yesterday, a woman who was in the garage said "the boss" was not at home and she was not sure when he would return. Neighbours questioned why wasn't former prime minister Patrick Manning "hounded" by the media similar to what the media was doing to Persad-Bissessar.
The Prime Minister said "life did not stop" when she won the election and there was a period of time when Manning would have stayed on at the Prime Minister's official residence at La Fantasie, St Ann's.
"There would be a time when you would need to put your house in order. I couldn't just take up every bag and baggage and just move, every prime minister takes their time before they move into the residence," Persad-Bissessar said.
When questioned about the NP contract, the Prime Minister read a prepared statement from her BlackBerry mobile phone and said she had "no interest in any contract that has been granted by the State or a State enterprise" and added that she asked the Energy Minister to provide a report.
It was announced yesterday that an independent team led by the ministry's Acting Head, (Legal Dept) Indira Rampaul- Chadee, will investigate the matter. The Prime Minister said boards were expected to remain faithful to the tendering rules and to be fair but it will be "unfair and unjust to exclude persons from bidding on contracts simply because I know them."
"There are laws in the country to deal with these matters of integrity and we support those laws. I have pledged to have a Government that adheres to best practices when it comes to procurement and the Joint Select Committee is looking at that legislation should any member of the Government or should any member of any board transgress against these laws and practices then I will deal with it decisively as I have already demonstrated," she said.
When asked how this issue was different from the issue with former planning minister Mary King, Persad-Bissessar said she did not know as she had to wait on the NP report. When pressed further, Persad Bissessar clearly frustrated said, "I don't know what happened, I honestly don't know so I would await the report from the line minister (Seepersad-Bachan) who will then consult with the Attorney General and we will deal with it at that point, it will be premature for me to comment on the matter, I do not know what transpired."
http://www.newsday.co.tt/news/0,140658.html
***
May 18, 2011
'Nothing awarded yet'
No contract had been awarded at National Petroleum Marketing Co Ltd, Housing Minister Dr Roodal Moonilal said yesterday.

PM admits staying in house owned by contractor
PRIME MINISTER Kamla Persad-Bissessar says Gopaul and Company Ltd have not yet been awarded a $40 million contract from National Petroleum (NP) for the supply of trailer trucks used in gasoline haulage. She admits, however, "they won the bid". "There is someone who is saying we are hiding the fact that I stayed there; that is totally untrue; some of you will recall, some of you may have even come, media persons came; you took the photographs, you put them on the newspaper, and people knew I was staying there." She said though, "It will be unfair and unjust, in my respectful view, to exclude persons from bidding from contracts simply because I know them and, further, there are laws in the country to deal with these matters of integrity, and we support these laws."

No cost to the State
Prime Minister Kamla Persad-Bissessar says her stay at a Tunapuna house owned by her friends Ralph and Maureen Gopaul was at no additional cost to taxpayers.

Al Rawi: PNM had to beat it out of Govt
The Opposition PNM had to "beat" the Government into yielding up answers on the Tunapuna house and the NP contract, PNM senator Faris Al Rawi said yesterday.

Moonilal calls on Hinds: Stop attacks on Kamla

Moonilal: PM stayed by Gopauls to save taxpayers $$

Independent team reviews NP contract
ENERGY MINISTER Carolyn Seepersad-Bachan yesterday appointed an independent team to review all of the information gathered in the investigation into the award of a transport contract at the National Petroleum Marketing Company Limited (NPMC).

Team to report in seven days
Minister of Energy Carolyn Seepersad-Bachan has appointed an independent team to review all information gathered in the probe into "the award of a transport contract" at National Petroleum (NP).

PNM Senator: Appearance of bias in $40m contract
There is an appearance of bias if a $40 million NP contract is awarded to Gopaul & Co Ltd, says Opposition Senator Terrence Deyalsingh.
May 17, 2011
Minister: No trucking contract awarded yet
Energy Minister Carolyn Seepersad-Bachan says there is no evidence to support claims that a $40 million contract was awarded to an east garbage trucking company to transport flammable gasoline by National Petroleum Marketing Company Ltd (NP).

…CDS cites lower bid, more experience in letter to minister
Couva company CDS Transport Ltd says it bid less for a contract at National Petroleum (NP) than Gopaul and Company Ltd, had ten years more experience in the fuel transport business but still lost out after the tendering process.

…NP director: Gopaul & Co best for $40m contract
Macoya-based Gopaul & Company Ltd was the best company to execute a $40 million contract from State-owned National Petroleum, a director at the company said yesterday. The director maintained that it had not yet been awarded any contract from NP.

…Rowley: NP will be pursued like Udecott

…Govt hid PM's stay in Tunapuna—Hinds
Government had sought to "conceal" that Prime Minister Kamla Persad-Bissessar had resided at a Tunapuna property after last year's general election when questions were raised about it in the Senate recently, PNM Senator Fitzgerald Hinds has indicated.

…Opposition demands $M answers from NP

…$40m NP contract row: PNM seeks minutes
MINUTES from the board meetings of National Petroleum are being requested to determine if proper procedure was followed in the award a $40 million contract, Opposition Leader Dr Keith Rowley has said.

…Basdeo Panday on NP contract:
A good minister would know