By Sean Douglas
Saturday, May 24 2008
newsday.co.tt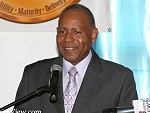 PRIME Minister Patrick Manning yesterday agreed to set up a commission on inquiry into the controversial Urban Development Corporation of Trinidad and Tobago (Udecott) and the practices of the construction industry, in place of the joint select committee (JSC) he had previously proposed.

The four-man body will be headed by former Integrity Commission chairman, Gordon Deane.
Manning's bombshell came in the House of Representatives as he spoke on a motion proposing the JSC at about 7.15 pm at the end of his 75-minute speech. The Opposition, local contractors and business groups have said a commission could better probe witnesses than a JSC.
Recalling his original view when he had proposed a JSC that no specific complaint existed against Udecott to justify a commission, Manning said a specific complaint was now being made for the first time, a likely reference to Opposition Chief Whip Ramesh Maharaj's allegation that a firm owned by in-laws of Udecott Calder Hart had been hurriedly set up and awarded a construction contract by Udecott.
"Even though we believe that the joint select committee approach is the superior approach, we have decided in the face of the position taken by the Opposition and the possibility that the Independent Senators may not wish to participate in the joint select committee, we have decided in those circumstances to go the route of the commission of inquiry."
Manning's concession came after he had just spent about 70 minutes defending Udecott, lambasting local contractors, and quoting Independent and Opposition Senators praising the virtues of a JSC.
Earlier Attorney-General Bridgid Annisette-George also made the case for the JSC saying it would allow citizens to "participate" through their elected MPs, while noting the penalty imposed for non-attendance at a hearing under the Commission of Inquiry Act was a mere $2,000.
Manning said the commission's investigations would include procurement practices in the public construction sector; the performance of local and foreign contractors and consultants; the effectiveness of the design-build approach versus the design- and-tender approach; the reasons for and effects of cost-overruns, delays and defective workmanship in public projects; and the procurement practices and methods of operation of Udecott.
http://www.newsday.co.tt/news/0,79515.html