…3-month lock-up illegal, says judge
By Denyse Renne
May 22nd 2008
trinidadexpress.com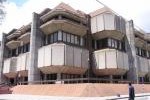 Brothers Rion and Jerivorn Woods were reunited with their grandmother yesterday after a High Court judge ruled that their three-month incarceration by a magistrate during a custody dispute was illegal.
Justice Amrika Tiwary-Reddy, presiding at the Hall of Justice in Port of Spain ordered that the two boys be immediately released into the care of their grandmother Francelia Woods and a detailed letter be written to the Commissioner of Prisons John Rougier and Tobago Magistrate Joan Gill expressing the court's "grave concern of this matter…".

The teenagers, 16 and 14, had witnessed the July 14, 2005, chopping death of their mother Sandra Miller and had been at the centre of a custody dispute between Woods and their great aunt Majorie Bacchus. Uriah Woods, the teenagers' father, is before the court charged with Miller's murder.
The magistrate had remanded the two boys to the Youth Training Centre, at Arouca during a custody dispute.
"There seems to be no explanation as to what committal order was made," Tiwary -Reddy noted, adding that the brothers went through a lot in the past.
"It is hard enough for young people to keep on the straight and narrow path…and then these two boys spend three months in YTC…" she added.
The judge ordered that legal costs be paid by the State and granted Woods full custody of the boys. Attorney Martin George and Paul Isaac represented the two boys.
Continye reading: 'Teens freed from YTC'