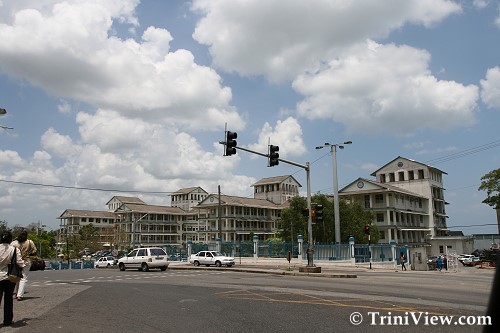 By Azard Ali
March 23 2011 – newsday.co.tt
WHEN doctors performed a second operation on Chrystal Ramsoomair to prevent bleeding in her womb, two arteries cut during the surgery were not stitched back and the young Carapichaima mother bled to death.

Gynaecologist Dr Jehan Ali who was Ramsoomair's private doctor before she was admitted to San Fernando General Hospital (SFGH), told Newsday yesterday that he witnessed the post- mortem on the morning of March 5, hours after the woman's death the night before.
Pathologist Dr Hubert Daisley performed the autopsy.
"Two blood vessels in the womb were ligated. That means, they were not tied off and presumably she died from bleeding," Ali said, as he gave an account of the hours before the death of Ramsoomair, 29, at the intensive care unit of the hospital. Ramsoomair had delivered her third child, a daughter, named Danielle by Caesarean-section (C-section) but died after undergoing an emergency hysterectomy.
When he last saw her on the maternity ward at about 5 pm on March 4, after Danielle's delivery, Ali said Chrystal was "as white as a sheet".
He said he alerted a doctor on call at the ward to Chrystal's condition, and a hour later she was wheeled back into an operating theatre.
"I was there in the hospital until the patient died," Ali said in an interview at his office at Southern Medical Clinic, San Fernando yesterday.
Ali explained Ramsoomair had been his patient at Southern Medical Clinic and five weeks before she was due to give birth he referred her to the San Fernando hospital.
"I gave her a letter to attend the ante-natal clinic at the hospital for a C-section at 38 weeks pregnancy. It was her third Caesarian, but not uncomplicated one," said Ali. When he learned she had undergone the C-section, Ali went to the hospital to visit Ramsoomair.
"When I went upstairs on the ward, she was white like a sheet. I asked the doctor if he had summoned his senior doctor. He told me he was writing his notes (on another patient) and then he will call. I called the registrar and she responded expeditiously."
Ali believed Ramsoomair was bleeding internally due to complications from the C-section.
By 6 pm that evening, she was taken back into the operating theatre where a registrar and consultant re-opened her to perform a hysterectomy to stop the bleeding, said Ali, who was once head of the Obstetrics and Gynaecology Department of the San Fernando hospital.
Ali decided to offer his help to the hospital's medical director Dr Anand Chatoorgoon.
"At that point I called Dr Chatoorgoon who was in his office and I told him about the patient's condition. I told him to ask the consultant who was performing the operation to allow me to assist in stopping the bleeding. I told Chatoorgoon again to speak to the consultant, but I got no response from him."
Ali went on to say that he waited outside the theatre with Ramsoomair's relatives and when he could not get a response from the doctors about what was happening to her, he spoke to a ward attendant.
"The ward attendant, who was in an out the theatre, said to me that he told the doctors that 'Jehan was outside and said that he was willing to help'. I still did not get a response."
Ali said he remained in the waiting room and about two hours later, Ramsoomair was wheeled out of the theatre, but was taken to the Intensive Care Unit and not the maternity ward.
Ali said he went to see her and "she looked okay to me".
However, he remained on the ward with family members when Ramsoomair's condition worsened. Ramsoomai, Ali said, had cardiovascular collapse in which her blood pressure dropped. "Obviously, she was still bleeding even after the hysterectomy, so much, that there was not enough blood for the heart to pump."
Ali said he then spoke with the anaesthetist who had put Ramsoomair to sleep for the hysterectomy. "The anaesthetist told me that he had informed the doctors during the operation that I was outside."
Meanwhile, efforts were being made to resuscitate Ramsoomair.
Ali said it was at that point, a consultant doctor asked him to provide assistance.
"I told him 'why you asking me now?' All the time I was willing to help but nobody take me on….now when the patient almost dead?"
Ali said he told the anaesthetist to try and get Ramsoomair's pulse back on track and to get two pints of blood for him to operate to try to stop the bleeding. "I was prepared to go in the theatre without their permission. The nurses may not have allowed me, but I didn't care. They would had to call the guards for me, but I would have tried to save her life. She never recovered."
Ali said he left the hospital close to midnight and on following morning, he went to the hospital's mortuary to witness the post mortem performed by Daisley.
Ali said he was shown the two blood vessels that were left exposed in Ramsoomair's womb.
Daisley had determined Ramsoomair died from hypovolemic shock as a result of complications of a hysterectomy which took place after a C-section.
Ali stressed he was prepared to assist with the emergency surgery and was prepared to stand the liability since he pays $250,000 per year to the Medical Protection Society, which is an international body for medical insurance for specialist doctors.
Chatoorgoon yesterday acknowledged that it was Ali who first saw Ramsoomair in distress on the hospital's maternity ward. "Being the good obstetrician that he is, it was Dr Jehan who saw her looking pale in the hospital," Chatoorgoon told Newsday.
Ali said he is willing to tell a panel appointed by the Ministry of Health to probe Ramsoomair's death what had happened on March 4. Five doctors and four nurses have been suspended for two weeks with pay pending the investigation.
Ali was ready to gave a statement to the three-member panel on Monday, but he was informed the first round of meetings had been cancelled.
The suspended doctors and nurses did not appear before the panel. The doctors reportedly submitted written statements to the panel.
Newsday understands the doctors are seeking further legal advice on initiating action to stop the probe, claiming political interference by the Health Minister in the suspensions and investigation.
PSA president Watson Duke yesterday said the nurses would have submitted statements in writing to the South West Regional Authority during a preliminary review of the procedures in Ramsoomair's death. The nurses are seeking further legal advice, Duke said.
http://www.newsday.co.tt/news/0,137623.html