By Dr. Selwyn R. Cudjoe
May 02, 2008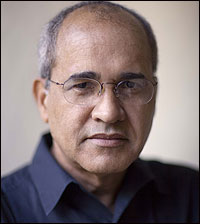 Three decades ago I met Arnold Rampersad when he joined the African American faculty at Harvard University as a professor. At the time I was an assistant professor at Harvard, having received my doctorate from Cornell University and having taught previously at Ohio University. In those early years I could not foresee the heights to which Professor Rampersad would reach in the academic world.
I remember only too well the day that Professor Rampersad journeyed to Brown University to meet with George Houston Bass, the literary executor of the Langston Hughes estate and a professor of theater arts at Brown University, to consider the possibility of writing a biography on Langston Hughes. I had known Bass somewhat having spent a year at Brown as an adjunct Associate Professor.

Having written The Art and Imagination of W. E. B. Du Bois, an inspired biography, Professor Rampersad was well prepared to undertake a study on the life of this great African American figure. The Life of Langston Hughes, a ground-breaking two volume work was the product of this enterprise. The first volume won an American Book Award and was a finalist for the Pulitzer Prize, a major American literary prize.
This was a precious achievement for a Trinidadian scholar who had who had grown up in Belmont and Diego Martin, had attended Belmont Boys Intermediate School and St. Mary's College and taught at Fatima College. When he left Trinidad in 1963 for Barbados he had no idea of where this sojourn would take him. Two years later, he left Barbados to study journalism at Bowling Green State University in Ohio where he switched to English. In three years he earned a bachelor's degree magna cum laude and a master's degree. In 1968 he started graduate studies at Harvard University where he received his doctorate.
In 1973 Professor Rampersad began to teach at the University of Virginia but soon moved to Stanford University where he became a full professor in 1978. Harvard and Stanford, the publication of The Life of Langston Hughes, and consistent hard work opened up many opportunities. In 1988, he accepted a professorship at Columbia University in Manhattan. Two years later he moved to Princeton University where he joined the Nobel laureate, Toni Morrison, on the faculty.
In 1991, greater fame and fortune was thrust upon him when he won a prestigious MacArthur Foundation Fellowship which, at the time, was known at that time as "the Genius Award." Recipients received a grant equal to one's age for five years tax free. That is to say if one was forty years old he or she received $40,000 a year for five years.
In 1992, Professor Rampersad was invited to join the ailing tennis star, Arthur Ashe, to write his autobiography that was published as Days of Grace: A Memoir. That was high honor. Days of Grace, a poignant meditation on race, religion, and civic responsibility reached number one on the New York Times best-seller list in 1993 shortly after Ashe's death from AIDS. It seemed that Professor Rampersad could go no higher in his academic career.
A year later, Rachel Robinson, Jackie Robinson's widow, invited Professor Rampersad to write the first full-length biography of the man who opened the way for other blacks to participate in Major League Baseball in the United States. Prior to 1947, African Americans could play baseball only in the Negro League. However, more than opening up the way for African Americans to enter the baseball arena, Robinson's achievement paved the way for the modern civil rights movement that resulted in Barack Obama having a real chance to become the President of the United States of America.
In 1998, Professor Rampersad was offered a Presidential Professorship in the Humanities that allowed him to return to the faculty of Stanford University. From 2003 to 2006 he served as the senior dean for the Humanities. Such duties did not prevent him from continuing his research on the lives of great Americans. In 2007, he published Ralph Ellison: A Biography that was chosen as a finalist for the National Book Award in non-fiction and the National Book Critics' Circle Award in Biography. National Public Radio described Ralph Ellison as the best book published in America in 2007.
Professor Rampersad has won fellowships from the Guggenheim Foundation, the National Endowment for the Humanities, and the American Council of Learned Societies. He is an elected member of the American Academy of Arts and Sciences and the American Philosophical Society. First Lady, Laura Bush, invited him to the White House to a one-day conference on literature. He returned to the White House last year when Mrs. Bush launched the annual Washington Book Fair which she founded.
Arnold Rampersad is one of Trinidad and Tobago's secret jewels. That he has been hidden away from us for such a long time makes him even more precious for us. T&T shall have a chance have him share his wisdom with us when he delivers the Eric Williams Memorial Lecture on May 23 at the Central Bank Auditorium. He will speak to us on race, politics and the evolving African-American Image. He is a son of whom all of us should be proud.