By Clint Chan Tack
Thursday, April 3 2008
www.newsday.co.tt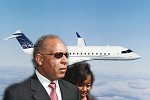 PRIME MINISTER Patrick Manning last night announced that two of the country's 14 local government bodies will be axed.
In a televised address to the nation, the Prime Minister disclosed talks have begun with the Elections and Boundaries Commission (EBC) to "identify new boundaries for local government" ahead of the local government election which will be held "later this year" .

Manning also hinted the Government still plans to acquire an executive jet with this country due to host the Fifth Summit of the Americas and Commonwealth Heads of Government summit next year and to honour overseas commitments in China, India and Africa.
A deal between Caribbean Airlines and Bombardier on the purchase of a jet fell through last month and the airlines said it is still looking for a jet to launch its service, in spite of a public outcry.
He subtly criticised Opposition Leader Basdeo Panday's actions in Parliament last Friday, reminding the country "it is the responsibility of all citizens to do nothing through which our country will be ill-served."
"We should all at this time, intensify our patriotism rather than pursue the purely partisan agenda. Government will continue to respect the democratic rights of the citizenry to express themselves on any issue but will also ensure that the best interest of the nation is protected at all times," the Prime Minister declared.
Describing the local government system as "quite dysfunctional," Manning said the Government is proposing a reduction in the number of local government bodies and a review of local government boundaries "to achieve greater administrative clarity and increased effectiveness in the deployment of national resources."
He said a green paper on new responsibilities for local government would be laid in Parliament.
"When this critical issue is decided upon, we will then proceed to design a new administrative system as well as new executive councils, an idea already placed in the public domain by the PNM."
Manning said the new local government boundaries would be "co-terminus with those for the general election" to bring the same size of population under the ambit of each regional corporation "while at the same time expanding the reach of our municipalities consistent with the expansion of our urban communities."
Apart from hosting two major summits next year, Manning said this country has "long outstanding requests" to visit China and India.
"It is clearly in our national interest to strengthen the economic and cultural ties with these two long outstanding allies," he stated.
The Prime Minister added that his "increased foreign travel" will also be required to keep TT's energy cooperation initiative with ten African countries alive.
http://www.newsday.co.tt/news/0,76152.html