By Anthony Milne
Saturday 29th March, 2008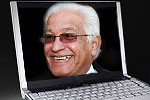 Pandemonium broke out in the Lower House yesterday as Speaker Barendra Sinanan suspended Opposition Leader Basdeo Panday for using his laptop without permission.
The Speaker relied on Standing Order 43 (12) to suspend Panday and the sitting ended at 2.15 pm, 45 minutes after it started.
Following the order paper, government ministers answered questions and then it was time for debate on a private motion on rising food prices brought by Naparima MP Nizam Baksh.

Sinanan said: "Before I put the question, I wish to remind members of a circular I gave on February 25, concerning the use of electronic devices.
"I also wish to remind you of the rule that for the use of such technology, members must seek the permission of the Speaker before using such devices during debate," he added.
An Opposition member shouted: "A backward approach!"
The Speaker continued: "Secondly, if permission is granted, use must be confined to refreshing one's mind or seeking notes or making amendments to notes during debate, and the member must intend to respond on the date for which permission was sought."
He had noticed that the Couva North MP Panday had a laptop computer on his desk.
"Hon Member for Couva North, are you contributing to the debate before this House today?" the Speaker asked.
Panday looked away and remained silent, as crosstalk rose.
"If he is not contributing to the debate today, and he has not asked permission to use his computer for the purpose of contributing to the debate today, I am asking him to put away the computer," the Speaker declared.
Full Article : guardian.co.tt
Related News:
Sunday, March 30th 2008
Panday says he's prepared for jail
OPPOSITION LEADER, Basdeo Panday, said that after a good night's sleep, he feels that he has a lot of work to do to preserve the democracy in Trinidad and Tobago following his parliamentary suspension on Friday. He told Sunday Newsday, yesterday: "I do not feel any different about Friday. If anyone feels any differently, they are still in mental slavery by the People's National Movement. People do not realise what is going on."
Former speakers weigh in on Panday suspension
PM: We won't save Panday
Government is not prepared to encourage the importing of lawlessness into the Parliament, through the Leader of the Opposition, Prime Minister Patrick Manning said yesterday. And therefore his Government will not validate Basdeo Panday's behaviour last Friday by initiating or supporting a resolution overturning his suspension from the Parliament, the Prime Minister added. Manning said the lawlessness manifested itself in Panday's refusal to accept the authority of the Speaker.
Clear case of disrespect
Newspaper headlines claim that Mr Panday was suspended from Parliament "for using laptop." This is misleading. He was suspended for persistently refusing to obey the Speaker: he wilfully disregarded the chair's authority.
Saturday, March 29th 2008
Bas Suspended from Parliament for using laptop
Opposition Leader Basdeo Panday has been suspended from Parliament for the remainder of the session, which can extend until December 16, 2008, House Speaker Barry Sinanan confirmed yesterday.
Opposition MPs plan to buck the Speaker
The rift continues to widen between Opposition Leader Basdeo Panday and Speaker of the House of Representatives Barendra Sinanan in the aftermath of Panday's suspension from yesterday's sitting…
'Shame' in the House
The Parliament Chamber was a scene of turmoil yesterday as tempers flared, insults were hurled and the police force was ordered to remove Opposition Leader Basdeo Panday over his use of a laptop.
Bas vows to return
House Speaker Barry Sinanan will have to expel all 15 UNC members of Parliament because they are all coming with the laptops at the next sitting.