By Dr. Selwyn R. Cudjoe
December 30, 2010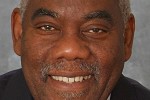 [This essay was written by Joy Clarke, a student at Wellesley College. I thought I would share it with my readers. It has been edited for purposes of length]
If literature is a signification of the emotional conscious of a people then V.S. Naipaul's A House for Mr. Biswas is a literary masterpiece. It traces the life of Mohun Biswas, a man of East Indian descent living in Trinidad following the end of Indian indentured servitude. Mr. Biswas' life is one of struggle, pain and his longing to find a place to call home. The reader is taken on a journey to locate home on several levels. On the surface is Mr. Biswas's profound desire to own a home while the subtext suggests that a search for a national homeland for a people who were removed from their natal homeland of India.

The importance of homeland is a central theme throughout the novel. Initially, Trinidad and its sister island Tobago, provided a temporary home for East Indian indentures. Lionel Seukeran observed: "the early settlers had no intention to settle on in this land and to make it their home. They had a contract to do a job of work, and the great majority fondly dreamed of the day when they would return to their native land." When Kamla Persad- Bissessar became the first East Indian woman Prime Minister of Trinidad and Tobago in May 2010, the notion of home changed for East Indians. Her decisive victory marked a significant transition for T&T, firmly establishing East Indians as proud citizens of the country.
A House for Mr. Biswas illustrates East Indians' transition out of indentureship to citizenship. This was captured by Mr. Biswas' journey from the rural trace of his birth to the religious home of Pundit Jairam to the stifling home of the Tulsi family and finally to his own home on Sikkim Street. This journey from dependence to independence begins with his inauspicious birth just after the end of indentureship.
Born with six fingers the "wrong way," our first impressions of Mr. Biswas are dismal. According to the pundit, fate has dealt Mr. Biswas, and subsequently his family, an unlucky hand. The sense of fate—that everything is predestined—permeates the first part of the novel. This belief weighs heavily on Mr. Biswas who must live knowing he will have an unfortunate life because of an unlucky sneeze. It also underscores the outlook of East Indians who saw their displacement from India as a matter of fate. Unlike his grandfather, Mr. Biswas is not easily persuaded about fate's hold on the future. Instead, he believes in the power of self-improvement and independence, thus his desire for a home.
As he searches for home and independence, we see a change in the culture of the overall East Indian population as tradition clashes with modernity illustrated most effectively in the Tulsi home. After several unsuccessful attempts of living with well-to-do family friends, Mr. Biswas strikes out on his own as a sign painter. One day, while working in the Tulsi family store he writes a love note to Shama, one of the Tulsi daughters. Immediately, the family calls him to discuss the possibility of marriage to Shama, to which he agrees. This marriage introduces us to the Tulsis, who Naipaul uses to illustrate the "solidity and continuity of the East Indian community in Trinidad."
The status of Tulsi family is located in a famous ancestor, Pundit Tulsi, "the founder of the family," which maintains the traditional Hindu caste system. Unlike many East Indian families, the Tulsis managed to maintain a connection with their family in India, another source of their status. Their Indian identity and their devotion to traditional Hindu values are also sources of great pride. A part of the house is dedicated to Hinduism and is reserved only for Mrs. Tulsi, her two sons and her brother Seth.
While he lives at Hanuman House Mr. Biswas comes to the conclusion that "in none of these places he was being missed because in none of these places had he ever been more than a visitor, an upsetter of routine." While many East Indians saw Trinidad as a temporary home, Mr. Biswas' desire to find a permanent house on the island indicates a desire to make Trinidad home.
While working at the Green Vale estate as an overseer, Mr. Biswas sets out to build his own house. Lacking sufficient funds, his house is shoddily built. Despite his best intentions, the house is more temporary than any of his previous homes. The eventual destruction of this house coincides with his severe mental break down. He is taken back to Hanuman House to "the warmth and reassurance of the [blue] room."
The comfort Mr. Biswas feels at Hanuman House is outweighed by his desire to paddle his own canoe and to build a solid home of his own. After more struggles, Sikkim Street becomes that place. The house, a large squat box, could be seen from two or three streets away. It is not until the end, while talking to a neighbor, that Mr. Biswas learns that his new house is not as solid as he thought. Regardless, he is satisfied. Mr. Biswas and Shama slowly improve the house covering up its shortcomings with gardens and orchards.
A House for Mr Biswas gives the reader an image of East Indians embracing Trinidad, represented by the house on Sikkim Street, as home. That Mr. Biswas' children will never think of Hanuman House, The Chase, Green Vale or any other place as home is profound. It suggests a distinct break with the past, with India as the homeland, and an acceptance of Trinidad as their home.
Kamla's Swearing- in Speech encapsulates this new period of T&T's history. She claimed victory in the name of all people of T&T, regardless of the specific prefixes such as Afro or Indo that previously distinguished the islands' multiracial, multiethnic citizenry. She is confident that East Indians can "integrate without losing our unique identity because we are a confident, resilient, and strong people."
Kamla's victory firmly establishes the identity of that subset of the population and gives them even more reason to call T&T home. It also demonstrates that East Indian and Trinbagonian identities are not mutually exclusive. They can coexist harmoniously together. It can be argued that Kamla completed the journey that Naipaul sketched in A House for Mr. Biswas.