Newsday Editorial
Thursday, March 27 2008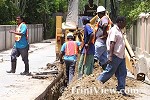 At long last, the Government through National Security Minister Martin Joseph had admitted to a link between the high murder rate and the Unemployment Relief Programme (URP). The question is, what is going to be done about it?
It has taken the PNM administration a long time to reach even this partial admission. Indeed, at the start of the year, even as he acknowledged that the Government's crime-fighting initiatives had failed, Mr Joseph denied the link between murder and URP — and mere days later denied that he had even said that the Government had failed. And it was only a few weeks ago that, after High Court judge Anthony Carmona spoke publicly about the URP link to crime, Mr Joseph declared stoutly that he had "no evidence of that". Now, at a press briefing last Tuesday, he says that such a link is "very possible."

We do not know what has caused this about-face.
Perhaps the fact that the murder total is approaching 100 killings even before the new administration has reached 100 days in office has awakened the Government. We hope, that the Government will face up squarely to the fact that the gang murders now plaguing the country started only after "community leaders" were put in charge of the URP programme and increased when the Government began pumping hundreds of millions of dollars into it — a fact that this newspaper, and many concerned citizens, have been pointing out for the past five years.
Full Article : newsday.co.tt
Joseph: Gangs may be fighting over projects
By Juhel Browne
Wednesday, March 26th 2008
National Security Minister Martin Joseph says "it is very possible" criminal gangs identified by the Government as the source of the nation's escalating homicide rate may be fighting over State-funded social programmes.
Joseph was speaking at a press conference yesterday at the National Security Ministry's head office in Port of Spain where he also said that homicides have been on the rise since September 2007.
Although Joseph did not identify any specific social programme, on February 22, Justice Anthony Carmona in a judgment in a criminal case, said that while the Unemployment Employment Relief (URP) does serve a social purpose, there is rank criminality in its bowels which needs to be addressed by the authorities.
Critics of the URP, including members of the Opposition, have long claimed it has been infiltrated by criminal elements.
Works and Transport Minister Colm Imbert who is the URP's line minister has however said that the programme is not a criminal enterprise, even though he acknowledged that some of its participants have criminal records.
Full Article : trinidadexpress.com