By Rhondor Dowlat
Tuesday, March 25 2008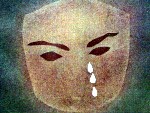 A POPULAR Bar-B-Que vendor, 48, of Cunupia who accused his wife of being unfaithful, gave his four-year-old son a poisonous liquid to drink and then took a dose himself sometime between Easter Sunday night and yesterday morning.
Their bodies were discovered by the child's distraught mother, Jairagee Deolal, 42, lying side by side on a mattress of their newly bought Caroni home.

This latest murder/suicide is included in the four-day Easter Weekend death record as 11 — six murders, three road fatalities, one suicide and one drowning.
Full Article : newsday.co.tt
'Tabanca' leads to murder/suicide
By Adrian Boodan
Tuesday, March 25 2008
A Cunupia man is believed to have killed his four-year-old son and then committed suicide, hours after he received counselling from Cunupia police.
The bodies of Himraj Sookai, 49, and his son, Kennedy Sean Deolal, of Southern Main Road in Cunupia, were discovered in a house which the family recently acquired at Tanager Drive, Ibis Gardens, Caroni.
The bodies were discovered around 9 am yesterday by Jairajee Sookhai, widow and mother, respectively, of the deceased.
Sookhai was found lying in the bed next to his son, clothed only in a pair of shorts, while his son was found wearing only a pair of jockey shorts.
A bottle containing a poisonous liquid, believed to be Lanate LV, a systemic agricultural insecticide, was discovered in the bedroom.
Police claim that Sookhai, who sold chickens for a living, was having marital problems, and may have had a case of "tabanca."
The couple reportedly had a major argument on Friday.
Full Article : guardian.co.tt
'They Kill My Child'
Mother blames police inaction for son's murder
Darryl Heeralal
March 26th 2008
"I stay because of my children. Sean was not in the picture. Sean come 15 years after and he did not want Sean. He said I make Sean by myself and I will have to mind him by myself. He did not want the child. Now he take the child. Everything he take from me and destroy everything to spite me," Deolal said.
"My mother stay because the Indian way is to take whatever your husband do you and then smile with the neighbours to make them feel everything normal. But this family for as long as I can remember was not stable," Viki said yesterday.
The family believes Sookhai tripped after Deolal left home on Friday.
Full Article : trinidadexpress.com