By Dana Seetahal
December 18, 2010 – trinidadexpress.com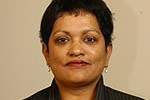 When I heard Mayor Louis Lee Sing's statement that he was going to ask the Port of Spain Magistrate's Court to set midnight as the hour that bars must stop selling liquor in St James and Woodbrook I wondered whether he appreciated there was a separation of powers between the judiciary and the executive.

When I read that the Caribbean Airlines board apparently felt that all they needed to do was to keep the line minister informed of their decision relating to the purchase of planes, I was concerned that they appeared not to have read the Uff report which focused on the conduct of another State company. Now I note that the former minister of foreign affairs Paula Gopee-Scoon is unsure that there was a deadline for filing her declaration of Income, Assets and Liabilities with the Integrity Commission for the year 2008.
If people in public life such as these are so seriously ignorant about their powers and/or functions, what is left for the ordinary man/woman?
Full Article : trinidadexpress.com