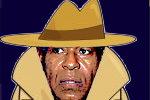 Sandy Hits 'Manic Man'
MINISTER of National Security Brigadier John Sandy yesterday tore into former prime minister Patrick Manning as a "manic man" with "a sick mind" for the wiretapping of persons in public life by a secret spy unit that reported to Manning.
Manning comes out fighting (link fixed)
…says 'spy' bill will undermine national security

Kamla's $150M Palace
Opposition MP Patrick Manning last night questioned where the money being used to construct the private house of Prime Minister Kamla Persad-Bissessar, which he described as "Kamla's palace", was coming from.
PM: Spy bill needs Opposition support
Even though the People's Partnership (PP) Government has the constitutional majority required to pass the Interception of Communication Bill, Prime Minister Kamla Persad-Bissessar said she would not want to do so without the support of the Opposition People's National Movement (PNM).
PM threatens Manning with libel suit
…Kamla threatens court action over 'defamatory statements'
Never again, says Sandy
There was no audit of the accounts of the Strategic Intelligence Agency (SIA) for the last decade, 2001 to the present, National Security Minister Brigadier John Sandy revealed yesterday.
Rowley wants Parliament oversight on security
OPPOSITION LEADER Dr Keith Rowley yesterday asked Government to let Parliament have oversight on national security issues, as he sought a bipartisan solution to the wiretapping scandal revealed last week Friday by Prime Minister Kamla Persad-Bissessar.
Rowley: It started with Panday
Opposition Leader Dr Keith Rowley said yesterday he found it very hard to believe Prime Minister Kamla Persad-Bissessar's statements that she did not know wiretapping was taking place.
A distraction, says Panday
Govt's revelation on spy agency
Kamla 'small peewat' under Bas
Ganga: SIA abused powers to spy
Former government minister Ganga Singh said yesterday that although he knew there were intelligence agencies in this country, he did not know the extent to which they were being operated and abused…
I was suspected of being a terrorist
Government Minister Jack Warner disclosed last night that he was monitored by the Strategic Intelligence Agency (SIA) because he was suspected of being a terrorist.