By Vernon Khelawan
Saturday 9th March, 2008
www.guardian.co.tt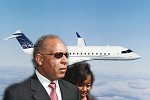 An air travel expert, involved in the Caribbean air transport business for many years, has questioned the absence of a feasibility study preceding the decision to enter the jet leasing industry.
To date the question remains unanswered, although Works and Transport Minister Colm Imbert in a post-Cabinet briefing tried in vain to deflect the question.
The minister had spoken two days before about a feasibility study relative to the inauguration of a fast ferry service in the southern Caribbean.

Imbert said that survey would cost $750,000 and would be paid for by taxpayers.
But he could not state whether a similar study had been done by either Caribbean Airlines (CA) or his ministry to dictate the suitability of such a venture at this time of skyrocketing fuel prices.
Following the news that CA had paid down on an executive jet, chairman Arthur Lok Jack confirmed that the aircraft on which a $65 million down payment was made was a Global Express XRS manufactured by Bombardier at its facility in Montreal, Canada.
And it was the same type of aircraft on which Prime Minister Patrick Manning and a team of government officials were given a demonstration flight in September 2006.
Investigations show that of all the Global Express XRS aircraft in the world, the government of Quatar was the only government in the world which owned one.
All the others are owned either by companies or billionaires.
The expert, speaking on condition of anonymity, said it might have been better if Caribbean Airlines had invited the private sector to be part of the project and set up a Fixed Base Operation (FBO) at Piarco International Airport, or even have the private investors do it by themselves, as has happened in nearby Barbados and Antigua.
He explained that in addition to the cost of purchase, there would be need to acquire a certain amount of spares and maintenance time, which could cost some US$30 million in the first instance.
Additionally, regular maintenance could cost as much as US$2 million a month.
He pointed out also that the pilots hired to operate this aircraft had to be specifically trained on the aircraft and this initial training could reach as high a US$100,000.
He also said there was mandatory refresher training every six months which could cost as much as US$50,000.
Then there is the question of pilots' salaries.
A captain and first officer on such an aircraft can together command a salary of some US$10,000 a month.
It would be expected that at least two crews would have to be trained.
It was pointed out further that it might have been a better business decision if Caribbean Airlines had bought a brand new Boeing 737-800 aircraft, similar to what it now has in its fleet, for US$35 million and which could be chartered out if that became necessary.
On another issue, which seriously impacts in CA's revenue stream, the expert pointed out that American Airlines had now captured some 70 per cent of the POS-Miami route with two daily flights and was planning to introduce a third service from next month.
There was the time when BWIA had two daily flights to Miami and American one.
The pendulum has now swung to reverse that picture with American soon to have three flights to CA's single service.
http://www.guardian.co.tt/archives/2008-03-08/news11.html
Caribbean Airlines shifting blame from govt
Couva South MP Kelvin Ramnath said yesterday that businessman Arthur Lok Jack was "unfit to be chairman of Caribbean Airlines."
Leaving on a jet plane
Has anyone noticed that whenever Prime Minister Patrick Manning finds himself in a sticky situation, he invariably ducks and runs, leaving his minions to clean up the mess? But while public opinion is firmly against acquiring any fancy plane to facilitate the PM's joy rides, the general perception of the response from Whitehall is "to hell with all you hard-working taxpayers, we are in charge and we can do as we like. We getting the plane and who vex, lorse".
Food prices jet off
FOOD PRICES continue to jet off, even as the country is engrossed in fierce debate about the plans to purchase an executive aircraft by state-owned Caribbean Airlines. Supermarkets were yesterday informed that Par Excellence parboiled rice will now cost them 10 percent more. Grocers also revealed that this past week Unilever Caribbean Limited issued notices that the prices of Blue Band, Golden Ray and Cookeen margarines had gone up.
$M jet, a rape on treasury
A HIGH-RANKING Govern-ment official yesterday accused Government of going behind Parliament's back to approve a $400million executive jet, as pressure on the board of Caribbean Airlines (CA) increased. "This is a rape of the treasury," stated the official who requested anonymity, noting that there was too much uncertainty looming over the proposed jet transaction. "We are dealing with too much vague information."
Flying in face of public sentiment
Four years, one test flight, several denials and a general election victory after Manning confirmed interest in a private jet service, the actual item has appeared in sight in record time within months of the start of the new political term.
March 09, 2008
Megalomaniac Manning
As for Colm Imbert trying to deflect all questions to the board of Air Caribbean, rest assured we are not all dimwits; everyone knows Air Caribbean is simply dancing to the Government's beat on this one. The board and management of Air Caribbean have a duty to act in the best interests of the company, and the level of care, diligence and skill must meet objective standards, or else the risk of personal liability of directors arises. I find it impossible to believe there is no dissent from any director on this issue! It is a vulgar and obscene, abuse and waste of public funds and not a "beep?" It seems as if we're back to the good ole days of "not a damn dog bark"!
Buy/lease executive jet
Last Thursday, the minister studiedly refused to answer directly a clear question from the media, as to whether it was the Government (or more particularly, the Ministry of Finance) that had approached Caribbean Airlines (CA) to get into the deal. That alone must suggest that the answer is in the affirmative. But even if it were not, that is irrelevant, given the following: Is Caribbean Airlines not a wholly-owned State corporation? In other words, is the Government not the sole shareholder of the company?
Parliament paid for jet?
THE PARLIAMENT of Trinidad and Tobago may have paved the way for Caribbean Airlines (CA) to purchase a $400 million executive jet as early as January 18 by passing legislation accounting for an advance of $430million to CA for the payment of BWIA Voluntary Separation from Employment Packages (VSEP). A similar sum, of $400 million, was also approved for payment to the Central Bank on that date.
Against public opinion
When the furore over government owning an executive jet first erupted last year, I was among the very few persons who saw nothing wrong with it, and I wrote as much. I argued then that the Prime Minister could be likened to the CEO of an oil rich country, except that his responsibilities were far greater, and that right here in Trinidad and Tobago there were several conglomerates that owned such aircraft.