By Rhonda Krystal Rambally
November 09, 2010 – guardian.co.tt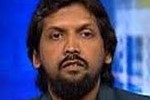 Sacked co–host of the morning talkshow — First Up — Fazeer Mohammed says the show is now open to political interference.
Comments posted on social networking site Facebook, where C News and First Up each has a page, indicated that Mohammed had been fired following an interview on last Thursday's show with Foreign Affairs Minister Dr Suruj Rambachan over Prime Minister Kamla Persad–Bissessar's statements about providing aid to Caribbean countries affected by Hurricane Tomas.

First Up is aired simultaneously on Channel Six and Talk City 91.1 FM by state-owned Caribbean New Media Group (CNMG) and has been hosted by Mohammed and Jessie May Ventour since June 2007. Contacted yesterday, Mohammed said he hadn't been fired but was "taken off the programme." Mohammed, who is a long–standing journalist, said he was disappointed by the decision. He is awaiting official word from interim chief executive officer Ken Ali about his status. He said: "I was called in on Saturday to a meeting with the human resources manager Christine Johnson and was advised that the company had to undergo cost cutting measures and Andy Johnson would replace me.
Full Article : guardian.co.tt
///
Fired
Talk show host and cricket commentator Fazeer Mohammed is questioning the timing of his dismissal from State-owned media network Caribbean New Media Group (CNMG).
…MATT wants answers from CNMG
In an immediate response yesterday, the Media Association of Trinidad and Tobago (MATT) questioned CNMG's decision and is calling on an explanation as to its timing.
…MATT wants answers on dismissal
http://video.ctntworld.com/view/470/fazeer-mohammed-replaced-as-first-up-host/