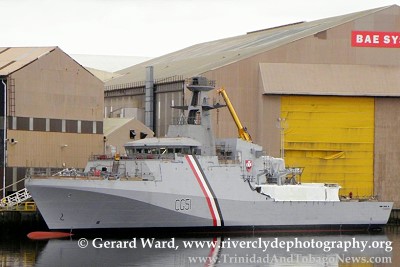 By Nalinee Seelal
September 30, 2010 – newsday.co.tt
PRIME MINISTER Kamla Persad-Bissessar yesterday confirmed Government has cancelled a deal with a Scotland-based shipbuilding company BAE Systems for the acquisition of three off-shore patrol vessels, ordered by the then PNM government at a cost of TT$1.5 billion.

The Prime Minister made the announcement shortly after her arrival at the Piarco International Airport following her trip to New York. Government is cancelling by reason of BAE's default. Because of delays, damages of over $61 million are already now overdue and payable by BAE to Government, and when the cancellation notice takes effect next month, Government will become entitled, among other things, to a full refund of moneys paid to BAE for the undelivered vessels.
An official response later faxed by the Office of the Prime Minister on the OPV cancellation revealed "The Government of the Republic of Trinidad and Tobago wishes to confirm the announcement made by BAE Systems to the London Stock Exchange on September 21, that it has served notice on BAE Systems to cancel the Contract entered into by the parties in April, 2007 for the supply of three Offshore Patrol Vessels."
The notice of cancellation was served on September 17, 2010 and there is a 30-day notice period before cancellation becomes effective. The release stated that since serving the cancellation notice the Government has been complying with its contractual confidentiality, and non-disclosure obligations. It also noted that because of BAE's serious and persistent delays and technical deficiencies that the Government concluded it was in its best interest to exercise its contractual rights of cancellation.The release further revealed that the decision to cancel was made after detailed consideration over many months.
Full Article : newsday.co.tt