By Andre Bagoo
September 19, 2010 – newsday.co.tt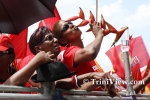 THE PNM is no longer in government, but its members are still attacking the media. In response to last week's column, former Minister in the Ministry of Finance Mariano Browne, who was one of the key players behind the disgraced former Finance Minister Karen Nunez-Tesheira, sent me two e-mails to three different e-mail accounts. He did not agree with me, so he sought, as was his norm when in power, to attack my integrity. When a journalist simply does his job with the utmost dedication in the face of mounting oppression from an insidious Government, they don't know what to make of it. Surely, there was something in it for me? Surely it was for a job in the PP Government?

But let me publically put you in your place Mr Browne. I did it because it was my sacred and moral responsibility to keep on doing my job in the face of all of your government's many, many attempts to suppress and get rid of me. The same cannot be said of you or most of your former Cabinet colleagues. And as your new leader properly and decently acknowledged this week, your party paid the ultimate price for its mistakes.
It is ironic that I was thrown out of the Coco Reef Resort and Spa, Store Bay, Tobago, this month at the behest of PR and security officials of the Office of the Prime Minister. One would have expected that such a thing would never happen under a UNC/COP/TOP Government. No PNM Government never threw me out of their retreat, though they wanted to ban me from Parliament. One person remarked wryly that no Government event is a success without me being thrown out —whether PP or PNM. But the Prime Minister Kamla Persad-Bissessar herself, after I reported the incident in Newsday, did the proper thing and apologised. She was big enough to do this, even though the incident happened because of the incompetence of her lower-level staff.
This week, the madness of politics in the country came home to me rudely at a PNM post-Budget forum at Piggott's Corner, Belmont (where I have lived all my life, incidentally). I was accosted and insulted by several in the crowd who identified me as "a UNC", as the former Sports Minister and PoS North/St Ann's West MP Gary "$2 million flag" Hunt mingled in the crowd. The new PoS North St Ann's West MP Patricia MacIntosh, taking a break from the Budget debate in Parliament where she would have been within the ear of members of the Government, got the crowd riled up by saying the PP Government was only increasing funding for Indian schools (she read out a list of Hindu Schools). People in the crowd looked at me, saw that my dougla hair looked "straight" and knowing that my name is Bagoo, began to accuse me of "voting UNC".
Then, Senator Fitzgerald Hinds told the crowd that he hopes I don't accept a job with the PP.
"Write that!" a man behind me said. Then Rowley — in perhaps his most reckless moment —began to attack the media, three times accusing it of being in the pocket of the PP Government. My colleagues from other media houses also began to get uncomfortable, as members of the crowd threw insults our way. This could have degenerated badly.
When Rowley finished speaking we left quickly. But I was accosted on the way to the car by Hinds, who forced his hands unto the car door to stop me from closing it. He then proceeded to "apologise" for what had happened, because he had heard. After all that had happened to me, Hinds audaciously said that he hoped this week's column reflected the quality of Dr Rowley's Budget speech and slammed the door shut. Well here is this week's column Mr Hinds.