By Martin Daly
September 04, 2010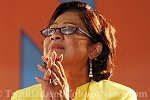 Before my August break, I gave glimpses of my growing impatience with the new Government (and I am not referring to it as "new" after today). It is now more than three months since it took office. It is time to assume the demeanour of a Government. The time for settling in is up.

I agree that the Local Government elections should have been held immediately but the Cabinet has had time to spare. The Prime Minister and bloated entourage took a dubious ten day trip to New York. Reading some of the reports of the New York tour I fear that the high living, decadent TIDCO posse of the Panday time era was back.
If the Prime Minister wished to walk in a parade in New York, the West Indian Day parade, preceding mas' on the Parkway, was the thing to do. I understand that the current US Ambassador to Trinidad and Tobago will be doing just that tomorrow.
At that parade the Prime Minster would have met the US Senators for New York, Mayor Bloomberg and other notables, as well as bonded with important Trini diaspora leaders. She was badly advised to omit it from her choice of parades. Perhaps the misprinted and misplaced Press Secretary did not have enough boy days to know what is what in the Trni socio-cultural structure.
Time is up, People's Partnership, for the gallery of victory. Let me first, after my two week August break, recap the concerns I had been expressing between mid June and mid August: Individualistic outbursts by members of Cabinet comprising either unseemly personal attacks or off the cuff statements, which concern fundamental policy issues, obvious lack of teamwork, dissatisfaction with the placement of special advisers and hidden lobbyists, such as ex-ministers, with access to and secretly operating within the engine room of the Government.
Full Article : trinidadexpress.com