By Nalinee Seelal and Alexander Bruzual
Saturday, August 21 2010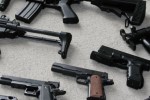 A day after they made one of the biggest weapons seizures, police described the Valsayn mansion of late millionaire contractor Hafeez Karamath as a drug den for the rich; a factory for the manufacture of exotic high-end hallucinogens.
Investigators estimate the mansion, located on a one acre property in the upscale neighbourhood of Palm Road, Valsayn, is worth more than $12 million.

They reported that "preferred clients" visited the mansion day and night. A ten-foot wall, which has a row of lights all around it, surrounds the compound which had a fleet of heavily tinted Sport Utility Vehicles (SUVs).
Residents believe the compound housed a casino which operated daily, and included armed security and a limousine chauffeur service to take clients home after heavy gambling.
It was purely by accident that the police stumbled upon a cache of arms, ammunition and drugs during a search carried out on Thursday at Karamath's residence as part of the ongoing probe into alleged corrupt activities at the Urban Development Corporation of Trinidad and Tobago (Udecott).
Full Article : newsday.co.tt
***
…Documents, guns, drugs seized
Attorney General Anand Ramlogan yesterday said the police may have made a huge breakthrough in their investigations into the Urban Development Corporation of Trinidad and Tobago (UDeCOTT).
…Six relatives face gun, ammo, drug charges
Six relatives of late contractor Hafeez Karamath have been charged with possession of guns, ammunition and dangerous drugs.
…HKL and Tarouba
Amid the investigations into the discovery of 18 firearms at the mansion of deceased businessman Hafeez Karamath, it cannot be forgotten that the officers of the Anti-Corruption Investigation Bureau (ACIB) originally went to the Valsayn residence in search of documents relating to alleged corrupt activities involving Karamath's construction company and Udecott.