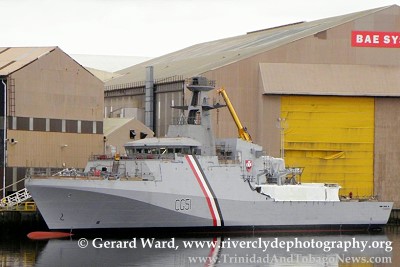 Newsday Editorial
July 16, 2010 – newsday.co.tt
WE eagerly await the report recently promised by Prime Minister Kamla Persad-Bissessar on the former regime's purchase of three Offshore Patrol Vessels (OPVs) that are said to cost $1.5 billion, which would work out at $500 million each.

The OPVs, together with smaller supporting boats and a 360 degree radar system, were meant to make this country's coastline virtually impenetrable to drug-traffickers, according to the former regime.
However, like so many other questionable decisions made by the former government — this one done under a veil of national secrecy — the OPV purchase is now being scrutinised by the new People's Partnership Government.
While the PNM's 2010 General Election manifesto said, "These vessels each have the capacity to carry over 100 men and stay out at sea for several weeks, with a range of several thousand miles," we ask are they really necessary?
Does Trinidad and Tobago really need three ships, each carrying 100 sailors, that are able to stay at sea for weeks and to travel thousands of miles away?
We cannot say that the former administration had ever really made their case.
We are glad the OPVs are now getting the attention that they had evaded during the former PNM's spending splurge, that also included the more headline-grabbing items of Udecott and the Rapid Rail.
The vessels represent not just a hefty initial outlay, but what appears to be a continually escalation in new-found costs, to not just build the boats but to maintain them and to train their crews.
We are now hearing that 66 Coast Guard sailors undergoing training have since last year been housed at the exclusive Holiday Inn in Portsmouth, England, and elsewhere at a cost of $60,000 per day.

Persad-Bissessar has quite rightly in our view described the whole OPV purchase as a black hole into which taxpayers money is being sunk. To add to these woes is the fact that the delivery-dates of the OPVs have continually been pushed back. We recall that even as the initial date for the first OPV had been May 2009, former Minister of National Security, Martin Joseph, had before then in the Senate pushed back that date to November 2009, a date subsequently pushed back to September 2010, but which the country has learnt has been delayed even further.
Latest news is that the delivery has been stalled due to a fault in the electrical system of the weapons system.
While Persad-Bissessar has hinted that Trinidad and Tobago may be entitled to some level of compensation, the delays may not be enough to get this country out of the contract, if so desired.
Several questions now arise. Firstly, does the pattern of illicit drug-trafficking suggest that such OPVs would in fact be efficacious in curbing the drug-trade? While awaiting the OPVs, the country has acquired so many interim vessels such as Fast Patrol Vessels and Interceptor Vessels, which we wonder whether in themselves are sufficient to apprehend suspected trafficking vessels? Secondly we ask whether or not there was a fair selection process for choosing the British firm, Vosper Thornycraft (VT), now a subsidiary of British Aerospace (BAE). We recall former Senator Wade Mark in 2008 once referring to the OPV deal as a "fishy affair" in which the tendering process was inexplicably scrapped in favour of the deal being done by a government-to-government arrangement, although the then government had denied any wrongdoing.
We await the Government's report on this matter and the resulting decision as to what happens next, including whether the OPV contracts remain intact and whether the deal needs to be investigated in the detail of a forensic audit, and whether the findings would be sent to the Integrity Commission.
http://www.newsday.co.tt/editorial/0,124105.html
Photos courtesy: www.riverclydephotography.org
***
July 17, 2010
OPVs launched amid Govt's delay criticisms
THE LAST of the controversial Offshore Patrol Vessels (OPV) ordered by the former People's National Movement (PNM) government was yesterday launched at BAE Systems' shipyard on the Clyde River in Glasgow, Scotland.
***
Address by Minister of National Security at Commissioning of OPV's
14 July, 2008