By Carol Matroo
November 21 2007
http://www.guardian.co.tt/news9.html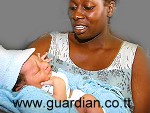 NEKEISHA Noel was breathless, shaking, excited.
She ran the gamut of emotions as she stood at the front entrance of the Mt Hope Women's Hospital, eagerly awaiting the return of her five-day-old baby boy.
It was at this same institution that one of Noel's greatest fears was realised…her son was stolen from her, just mere hours after she gave birth last Friday morning.

But, yesterday, Noel was finally reunited with her son Jeremiah Obadiah Shawn Henry, in a tearful scene, when police, acting on a tip-off, rescued the child from a house at Oliver Trace, Mt D'Or Road, Mt D'Or.
Noel stood outside the hospital, supported by her boyfriend Sheldon Henry and brother Kendall's arms, eagerly looking for the unmarked police car that was supposed to take the child from the St Joseph Police Station, where the suspect was being held, to the hospital to be reunited with his mother.
"I want to see him. I find they taking real long. I can't wait to see him," she repeated over and over again.
Surrounded by relatives, friends and well- wishers, Noel was visibly elated by the news that she received through a telephone call from a friend.
Squeals and cries of joy and celebration rose in a crescendo, a fitting end to days of worry and pain for the 22-year-old mother of two.
"I am happy. I'm glad and I am rejoicing. It's finally time to go home. Oh God!," a gleeful Noel said.
Full Article : guardian.co.tt
Safely back in mom's arms
The "nurse" who is 21 years old will appear in the Tunapuna Magistrates' Court today, according to police, on a charge of child stealing, which is an offence under Section 54 of the Offences Against the Person Act. Up to press time, police were also said to be contemplating a second offence of impersonating a nurse.
That's My Baby!
Abducted infant found, young couple arrested
The Express learned that the woman suspected of stealing the baby was taken for psychological evaluation at the hospital after she told the police that she had recently been pregnant and had lost her child.
Security beefed up
Security guards at health institutions throughout the southwest region have been placed on alert and advised not to take chances with anyone visiting health institutions.
"All members of staff have been told to wear their identification badges and visitors should show their passes at all times," he said.
FLASHBACK:
Newborn baby stolen from Mt Hope Hospital
Sunday 18th November, 2007 www.guardian.co.tt
Mother of the newborn baby boy who was stolen from the Eric Williams Medical Sciences Complex on Friday, is refusing to leave the hospital until her baby is found.
Mother begs baby-snatcher
Sunday, November 18th 2007 www.trinidadexpress.com
LURKING in the corridor of the maternity ward, the woman who stole Nekesha Noel's ten-hour-old baby boy stalked mother and child for almost two hours.
In a pre-planned and well thought out ambush, the baby thief pounced on Noel just after visiting hours on Friday, while baby and mom were recovering at the Mt Hope Women's Hospital.
Pretending to be a nurse, the woman sent Noel to go to the bathroom to check if she was still bleeding and then stole the hapless infant.
The woman of East Indian origin, is said to be in her 20s, stockily built and has shoulder-length black hair which she wore "tied up in one".
'Nurse' kidnaps baby from hospital
Sunday 18th November, 2007 www.newsday.co.tt
A new-born baby boy, only ten hours old, was stolen from his crib, on Friday, which was placed next to his mother's hospital bed by a woman pretending to be a nurse.