By Stephen Kangal
November 21, 2007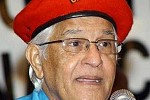 In the rest of the civilised world politics is the art of the possible and of compromise. In T&T it degenerated in 2007 into a fine art of naked UNC deception that caused some 190,000 unsuspecting people to be so manipulated that they bought into it with their rustic innocence and hero worship of a badly scarred leader.
Panday whose political credibility has reached ground zero deceptively led Mr. Dookeran in October 2005 into the lion's den under the false illusion that both were participating in leadership succession planning in the UNC. Mr. Dookeran suffered from the worst form of humiliation and total disrespect as Leader of the UNC.

Panday tried to use Dookeran to sanitise his declining political image. They the UNC cabal told him to go directly and indirectly. The result was a deliberately Panday- induced split party. That is where the UNC lost the 2007 elections. COP received 148,000 votes and was second in 21 constituencies. Only 6 candidates including the two in Tobago lost their deposits but 13 of the UNC candidates lost theirs.
COP has deeply rooted organisational structure and internal resilience that will grow into a strong electoral outfit by leaps and bounds.
That split is singularly responsible for Panday being consumed by a blaze of ignominy and political oblivion in 2007. But Panday attempted to deceive and manipulate his "short memory" supporters. It is Winston Dookeran and the COP that caused him to lose the election according to concession speech delivered at Rienzi. He is the architect of his own political debacle and indulges in the blame game because his followers (chelas) will repeat whatever nonsense he spews on them. Panday on election night was speaking exclusively to his chelas- not the right and sober- thinking people of T&T.
The Mid Centre UNC meeting and subsequent press ads were deception geared to mislead all T&T. He deceived the UNC spineless sycophants into voting for him because he manipulated and deceived them into believing that he would be the next Prime Minister. He fooled them with hoaxes about visits from Mandela and Jesse Jackson designed to attract the black vote. The electorate would never have accepted Panday as Prime Minister in 2007.
On the night of his humiliating defeat concession speech and repeated afterwards, Panday tried to deceive his fold that if the UNC had been elected into Government on November 5 there would have been an immediate cessation of murders, rapes and instant reduction of food prices. Panday will have rained manna from heaven.
He conveniently wished us to forget that he ("come let us go kid") and Ramesh ("done deal") with his Crowne Plaza Accord installed the PNM Government in 2001 and 2002. Crime began to escalate then. Panday and Ramesh should have been looking in the mirror since 2001 by his own twisted logic- not the COP supporters who shocked him into uncontrolled trauma at Rienzi on election night.
Having used deception, what Dookeran terms falsehood, to worm his way back into his natural habitat of the Opposition benches, he then tells us that is a waste of time, talk and powerlessness. But he admits of having a group of giants coming up against the neophytes on the other side. He further admits to us that he spent 20 years doing nothing in Opposition.
He tells us that he will die with his boots on. But 11,000 voters (53%) of Couva North have now abandoned him. One deceptive, obscene and vulgar man with a following but without any shred of political credibility who is now a yoke on our necks stood in the way of an electoral accommodation. He alone deprived T&T of good and caring governance on November 5. But the vintage deceiver blames everyone else. His chelas will repeat every word of falsehood he utters. Panday was sure bent on preventing Mr. Dookeran from becoming the Prime Minister of T&T.
But to his eternal credit this maha-guru understands the gullibility of his fast diminishing 190,000 chelas. He served the decimated, post-election UNC audience a cocktail of deception, vitriol, venom and falsehood at Rienzi. They called for more. He must keep them in a state of political indentureship to ensure his future marketability. They must not think or they will reject him outright.
One hundred and fifty thousand Trinbagonians refused any longer to submit to Panday's shenanigans and deception. He knows that his eternal baby, the UNC is in rapid terminal decline. He has to destroy and discredit the natural successor COP vehicle that outperformed him in 21 seats, is only 40,000 votes behind the UNC and emerged as a truly national, broadly -based party after only one year.
Panday needs urgent, post-election de-fibrillation from the shock and trauma that he suffered on November 5.
The lion is terminally wounded and has lost it.