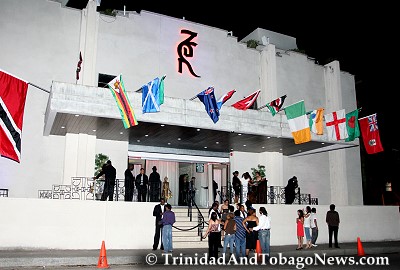 THE EDITOR: I paid $400 for my friend and me to go into Zen Nightclub on the night of June 12th, 2010. It was her first time at a night club; it was supposed to be a special, memorable experience for her. But this is what happened to her roughly an hour and a half after entering the club:

While inside the nightclub, my friend frantically pointed at her bleeding foot, alerting me of her puncture wound/cut, after which, I looked down and also discovered giant pieces of broken glass beside her feet on the floor (yes, she was wearing shoes). Upon noticing that the sizeable cut was a gash, with blood leaking out onto her shoes and the floor, I immediately escorted her to a point just outside Zen's entrance where I sat her down and attempted to stop the bleeding with a few clean hand tissues that were in my pocket. I proceeded to ask Zen's staff for a first-aid kit or bandages. Each staff member I asked kept directing me to another member of staff. Finally, one of them handed me some tissues, and said, "That's the BEST they have." I also informed the staff that there were several pieces of broken glass on the floor inside the club; they were unconcerned. Imagine: no first-aid kits or even band-aids at a highly established, internationally acclaimed venue like Zen! And tissues are the "best" that they can provide to their injured patrons?
The club's management/security observed the delicate situation, but proceeded to treat us like animals. While I attended to the bleeding gash, the manager instructed the security to put us off of the premises, completely out into the street. The security did so in the most heartless, cruel manner, even after I brought to their attention that forcing my friend to suddenly stand up and WALK down the steps with her injured foot will incite further bleeding. I humbly pled with the security to allow us to stay a while longer until our transportation arrived. The bouncer carried on arrogantly and relentlessly, with the same pig-headed attitude, demanding that we, "Leave now; take it outside." We weren't even allowed to remain anywhere near the outside of the entrance where it would have been safer for us to wait.
They showed no interest in helping, or even sending a clean-up crew inside to handle their own hazardous mess to prevent another patron from suffering similar injury. Instead, the management's only concern was ordering us off the premises so as to hide their negligence and incompetence from other patrons. This was embarrassing and humiliating. Is this the way management should treat their patrons? In fact, is this the way to treat a human being?
As a result of their chasing us off the premises, the cut resumed bleeding. We stopped and sat under a tree, near the parking lot next door, where I eventually got the bleeding to stop. We had to wait along the dismal sidewalk for about an hour and a half (from 1:45 a.m. to 3:15 a.m.) until our transportation arrived.
Giant pieces of broken glass all about the floor where people are standing, walking and dancing; this is definitely a health and safety breach/hazard. It is appalling, especially for an esteemed place like Zen which is supposed to be maintaining exemplary standards. Moreover, Zen's management literally added insult and embarrassment to injury…an injury that was due to management's negligence. Now, I am inclined to believe that this deplorable level of service and dreadful dog-treatment towards patrons must be a regular occurrence at the popular Zen Nightclub. All future patrons, as well as international artists who perform there, deserve to be warned.
BRIAN GALFORD