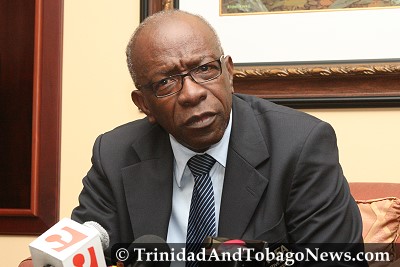 By Clint Chan Tack
July 02, 2010 – newsday.co.tt
Prime Minister Kamla Persad-Bissessar once again demonstrated her continued trust in Works and Transport Minister Jack Warner when she yesterday selected him over more politically experienced members of her Cabinet to act in her stead while she is out of the country next week.

Making the announcement at the post-Cabinet news conference at the Office of the Prime Minister, St Clair press secretary Garvin Nicholas said Persad-Bissessar leaves Trinidad and Tobago tomorrow to attend the Caricom Heads of Government meeting in Montego Bay, Jamaica from Sunday (July 4) to Wednesday (July 7).
Nicholas said Persad-Bissessar will address the opening of the meeting at the Rosehall Resort and Spa on Sunday in her capacity as "a newly elected head." The meeting will be her first Caricom leaders meeting since being elected as Prime Minister on May 24. Last month, Guyana President Bharath Jagdeo paid a courtesy call on Persad-Bissessar ahead of the Jamaica meeting to discuss new forms of economic cooperation between both countries.
Full Article : newsday.co.tt
***
Warner to act as PM
Works and Transport Minister Jack Warner is to carry out the duties of Prime Minister of T&T during the absence of Kamla Persad-Bissessar from Sunday to July 12.
No rotation of leaders to act as PM
Arrangements within the People's Partnership grouping do not mean the Prime Minister will rotate the leaders of the various parties in the PP to act as Prime Minister when she is overseas, PP press secretary Garvin Nicholas said yesterday.
Dookeran should have been chosen–Panday
The appointment of Works Minister Jack Warner to act as Prime Minister, shows who's really in charge, according to former UNC leader Basdeo Panday.