By Stephen Kangal
June 22, 2010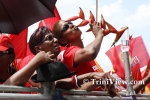 The sober question that my favourite T&T electorate must address dispassionately is whether in the face of the sordid and blemished history/culture of widespread, pervasive, repeated corruption, vandalisation and pillaging of the public purse it can ever put God out of its mind and elect the PNM to mis-govern and bleed this country again?

According to Leader of Opposition Rowley the UDECOTT feeding frenzy alone is conservatively put at ten times worse than that of Piarco. After presiding over the financial largesse doled out by two oil and gas bonanzas (last one $300bn and counting) the PNM via former PM's Williams and Manning has bequeathed to T&T both in 1986 and 2010 a legacy of persistent poverty, squandermania, a ballooning public debt (50% of GDP), militant arrogance and an empty treasury.
The answer to this national challenge is neither the re-engineering nor changing the leadership of the PNM will make it electable again? The problem was not Manning.
The problem is that there are two organizational cultures driving the PNM. There is the 1956 cosmetic and deceptive founding culture and ethical standards written on paper and plastered on banners. Dr. Williams articulated them in his two 1962 Independence addresses to the nation and school children.
But there is another completely antithetical dominating. pervasive and operating PNM culture that is fed by the tribal notion that the rich patrimony of multicultural T&T is the exclusive preserve of the PNM and its 30% share of the electorate. That culture of nepotism, national divisiveness, arrogance, ethno-nationalism, secrecy and feeding frenzy at the Treasury trough geared to promote its electoral security obsession is so deeply ingrained and embedded in the PNM body politic that it will take decades to eradicate and dismantle.
The collective institutional memory of the electorate must give itself the benefit of the doubt and not make the mistake again of electing the PNM again. We must learn from our political history in order not to repeat the political mistakes again.
The meltdowns inflicted in 1986 and 2010 are conclusive evidence of this PNM modus operandi whether it was the Williams PNM or the new Manning purged PNM. Rowley did not save the PNM because he struggled to win his own seat of Diego West by 500 votes from Rocky Garcia. Imbert won by 300 votes.
Neither new faces at the helm of the PNM nor reinvention/re-engineering can change the price we pay for PNM cocoa. Former Chairman Enill does not understand PNM politics saying that the problem of the PNM is no more because Manning was removed from the leadership.
The collectivity of the PNM was all caught up, drawn into and seduced by the centrifugal and irresistible forces of the real vortex culture that is based on the maxim that Magnum est PNM et prevalabit in corruption, nepotism lack of transparency and accountability and mismanagement.