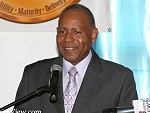 Rumour has it that Prime Minister Patrick Manning has eliminated from his Cabinet all members who had once supported Dr. Keith Rowley for leadership of the PNM.
Rumour has it that Manning was in favor of the corruption charges against Rowley sticking, thereby allowing a convincing reason to get rid of him, while ensuring that he is no leadership threat in the future. Although the charges did not stick, Manning would be looking for other ways to achieve his goal. Meanwhile, Manning is eliminating Rowley's former and current supporters.

Incidentally, rumour has it that it was Manning who leaked the allegation of corruption against Rowley to COP member Ganga Singh for it to be made public. (See: The Manning factor in the mix)
Bringing in lots of new faces, especially women, was an attempt to make this house-cleaning popular with the masses and to stave off criticism. Who would be publicly against more women being appointed to ministerial posts?
Rumour has it that the Woodford Square 'coronation' of Prime Minister Patrick Manning was also to further garner PNM supporters' loyalty while purging the party. Manning already made PNM's election campaign about himself personally, with a popular Calypso championing his cause with the hookline, "Patrick, we stepping up with you". This line was repeated by PNM supporters throughout the campaign and at Manning's 'coronation'.
(See: Political advertising reaches new heights)
Rumour has it that Manning is ensuring that the PNM members of the House of Representatives and his Cabinet owe their political life to him, thereby ensuring that he can rule without any internal party threat to his leadership.