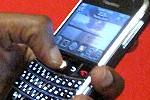 THE EDITOR: I wish to advise you of the poor and unsatisfactory service that I have been experiencing with Digicel Limited. I am a post-paid customer with the Blackberry unlimited internet service. Since Wednesday 2nd June, I have not been able to access the internet service on my mobile device.

I have made several attempts to have this rectified by calling in the Customer Care toll-free number. The agents who appear to be very pleasant acknowledged my dilemma and until today have not been able to grant me a solution.
The irony is that I am certain that I will still be billed for the unlimited internet access that I am unable to enjoy!
Hats off to the BIGGER, BETTER NETWORK!!!!
Extremely disgruntled,
V. Ramharrack.