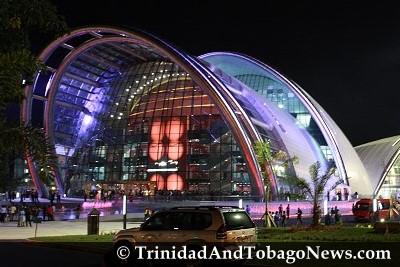 Newsday
Thursday, June 10 2010
The auditorium of the National Academy for the Performing Arts (NAPA) will be named the Lord Kitchener's Calypso Auditorium.
This was announced yesterday by Minister of Arts and Multiculturism, Winston Peters as he conducted a tour of NAPA.

Peters, also known as calypsonian Gypsy said Princes Grounds, the sight on which NAPA was constructed, housed the Calypso Revue tent, also known as Kitchener's tent prior to the construction.
"He performed here, so it is only appropriate that we honour him in this manner. Kitchener's tent was here for many, many years. I sang here, my grandparents used to come here and party. I am going ahead with the name, and it would be done in the short order," said Peters.
Peters said he has been lobbying for the name since he was in Opposition, but now he has the opportunity to do it.
The auditorium at NAPA has been unnamed since it was constructed.
Speaking after the tour to members of the media, Peters said he saw NAPA as a beautiful building.
"It is an impressive building, but there is evidence of a lot of shoddy work".
He claimed it was evident that a lot of inferior materials were used in the construction and furnishing of the building.
"Everything here looks hurriedly done because of the criticism that was leveled against the administration and the place, it had to be completed quickly," Peters stated.
Another flaw which Peters pointed out was the limited seating capacity of the auditorium.
"For the kind of money spent on this building, the seating capacity is too small. There are a lot of rooms, but if you want to put on a big show inside here, where are you going to keep it? I think it holds the same amount as Queen's Hall," stated Peters.
Peters said his Government has no plans to renovate, or add to NAPA, "If the artistic fraternity, for which this place was built, has a problem with it, then something will have to be done eventually." he added.
http://www.newsday.co.tt/news/0,122197.html
Related: