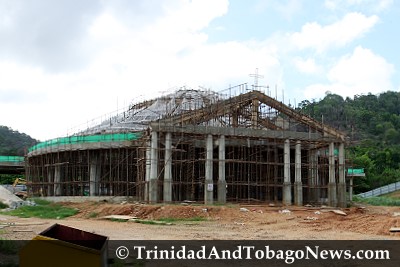 Chinese workers quit Guanapo church site
By Nalinee Seelal
June 02, 2010 – newsday.co.tt
Since May 23 — the day before the May 24 General Election — work has stopped on the controversial Lighthouse of Our Lord Jesus Christ Church in the heights of Guanapo.
Chinese workmen hired by Shanghai Construction group to build the church packed their belongings and left the job site.

In addition, Arima police are investigating the theft of a quantity of electrical cable from the controversial Guanapo church.
On Sunday a watchman at the church site went to the Arima police station and reported that a quantity of electrical cable which he had seen on the site two days previously, was missing.
The workman was unable to give an estimate of the cost of the cable, and was also unable to furnish the police with the name of the church owner.
Full Article : newsday.co.tt
***
Cops search for project manager
Bandits strike at Guanapo church…
Arima detectives are searching for the owners and/or project manager responsible for the construction of the controversial church at the Heights of Guanapo after three armed robbers staged a daylight robbery on the compound over the weekend.