By Irene Medina
www.newsday.co.tt
Tuesday, September 4 2007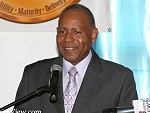 Senior MPs of the ruling People National Movement's (PNM) have lashed out at their political leader and Prime Minister Patrick Manning for using a secretly conducted poll as a screening mechanism to weed them out of the General Elections line-up.
A top PNM insider says that Manning is using the poll, a creation of a committee led by PNM public relations officer, Jerry Narace "to create sycophants and a Cabinet of putty to do what he wants."

According to the MPs, the poll which has already been used to eliminate, Arouca North MP Camille Robinson-Regis, and Toco-Manzanilla MP Roger Boynes and is hanging like an axe over the head of Diego Martin Central Ken Valley has effectively usurped the party's Constitution, replaced the screening process and destroyed the entrenched system of nominating a candidate via the party groups.
He explained that before a candidate is chosen, the party groups must first nominate that person, then the executive meets and a decision taken, after which that person goes before the Screening Committee. "Now its all on the basis of a poll," he said.
Sources within the party slammed last Saturday's convention, saying that Manning used the highest forum of the party to solicit support for his decisions about "who should go and who should stay."
Last Saturday at the Bon Air High School, Manning told supporters, "hard decisions are going to have to be taken my dear friends. Hard decisions! And this political leader, before he embarks on that, wants the assurance of this special convention that the party is behind him in the discharge of his responsibility to party and country." The audience was on its feet. Insiders are questioning the value of the secret poll and are convinced it was not done to evaluate MPs performance since the results were not about showing them how to improve their weakness, but to axe them. One source explained that the real danger of the poll, is to "blackmail" MPs to stay in line or else.
He likened it to Dr. Eric Williams' undated letter, which MPs were asked to sign so that they could be kicked out of office at any time Williams saw it fit to do so, but said it was "even worse because whereas MPs had to agree to sign the undated letter, in this instance, if the poll say they must go, then that's it."
Another source told Newsday now that Manning had fashioned the party to the way he wants it, he was moving to do the same with the Government. He said the new Constitution as drafted by Sir Ellis Clarke which sought to reorganise a number of institutions and proposed the Office of an Executive President, has been rigorously opposed by a handful of senior government officials.
"These are the people who are in trouble of being axed," he said. The irony, according to one source, is that while MPs were kept in the dark about the poll, their political leader knew about it before, and "that is why today he has scored credibly."
One source told Newsday yesterday that all the new candidates are being asked to pledge "loyalty" to Manning as a condition attached to their candidacy. Sources questioned the whole issue of performance in a constituency and pointed to several instances where the line ministers failed to see their constituencies' needs as a priority.
http://www.newsday.co.tt/news/0,63532.html
Valley fights back
Diego Martin Central MP Ken Valley who reportedly faces the axe due to an alleged poor score on a performance poll said yesterday that he had already told his constituents some time ago that he would serve one more term. "I only want one term more," he told Newsday during an interview at his Diego Martin Central constituency office.