By Raffique Shah
Sunday, September 2nd 2007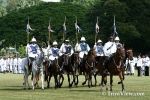 As the nation marked its 45th anniversary of Independence last Friday, focus would have been on the many statements of achievements by leaders in the society, some criticisms of where we have failed, and on outstanding individuals, especially recipients of national awards. The fact that a society as diverse as ours has survived devious moves to divide us along racial and religious lines is something we ought to be proud of. We have also, to our credit, withstood several major political upheavals and lean economic times.

And yes, we could have achieved much more if we were a disciplined and productive people, if, through those years, our leaders were more visionary and less corrupt.
But we have to be thankful for small mercies. I have long outgrown the hoopla surrounding Independence celebrations. They have hardly changed over the years-decorations aplenty, lavish ceremonies, the standard military parade, and for most, especially when the big day allows for a long weekend, fun and rum on the beaches. The well-heeled head for "foreign", such is their love for country.
As one who was there, in the heart and heat of that historic event (a 16-year-old cadet standing at ease and at attention, as required, somewhere on Abercromby Street close to the Red House), how I miss the fervour of the young, the patriotism oozing from our pores, and the hope for a better tomorrow we all dreamed of. Maybe the lack of this spirit can be attributed to unrealised dreams, shattered hopes.
What bothers me most, though, is our loss of a sense of our history, even of a segment as short as 45 years. Ask the average under-20 who was Dr Eric Williams or Dr Rudranath Capildeo, and if he or she does not regard you as a weirdo, they would most likely respond: Oh! Dem! Dey is two doctahs at Mt Hope that kill some chirrun!
And please, don't think I'm being outrageous-language, et al. Even as we make progress, we regress at an unbelievable rate. History is now considered… well, history. Which brings me to one of the special events staged to mark our Independence in 1962: it was a calypso king competition staged about two weeks before the big day at what was then the Town Hall in Port of Spain. It was broadcast over the only two radio stations (which is how I followed it), with a packed hall that overflowed into Woodford Square, where a huge crowd followed the event.
After auditions, 12 bards were chosen for the finals, among them some of the biggest names in the art-form: Sparrow, Striker, Pretender, Bomber, Dougla, Nap Hepburn and a bald-headed 25-year-old calypsonian from Erin bearing the sobriquet Lord Bryner, took the stage. I can't recall their order of appearance, but how well I remember Bryner winning lusty applause for his racy: "Because this is your land, just as well as my land; this is your place and also it's my place."
To cut a long story short, Bryner (Kade Simon) won, taking the princely sum of $1,000. He also won a crown that would never again be up for grabs.
But who remembers Bryner today? True, he was no paragon of virtue. But he was a damn good composer and singer who, besides winning that competition, recorded one of the finest compositions of the 20th century-"Rich Man, Poor Man". Believe me, it's a classic. Bryner was among the earliest calypsonians to travel to Africa (I don't recall which country) and later ended up in Jamaica. There he not only performed calypso, but added several songs in the "ska" beat (a precursor to reggae). He was prolific when it came to recording his songs.
Between his debut in 1958 and his death by suicide around 1972, Bryner recorded an astounding 50 seven-inch records (usually two songs) and 13 LPs (the equivalent of today's CD). His lyrics and music encompassed calypso and Jamaican ("Teach me to Ska") and African rhythms ("Kumina Rise Tonight"). His tragic end-days, and the fact that he died at around age 35, denied us more of this genius (much the way we lost Spoiler, Dougla and Maestro).
But neither his early demise nor his erratic demeanour (okay, he went "loco" towards the end) should deny him his place in our Independence and calypso history. Sadly, like so many others who made contributions to this country, he is all but forgotten.
As the elite gathered in glitz, glamour and gluttony to mark our 45th anniversary, I'm sure not a thought was spared for this illustrious son of the soil. Some in the calypso world saw him as a vagrant. Merchant (Dennis Franklyn) was no angel, but his music and talent were incomparable. Bryner must be given his place in the pantheon of our Independence history and rich cultural heritage.