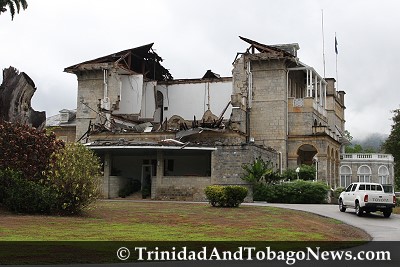 Shame, Shame, Shame
By Rhondor Dowlat and Andre Bagoo
Monday, May 17 2010
A LARGE section of the top floor of the West Wing of the President's House in St Ann's, directly above the visitor's entrance, came crashing down on Saturday morning owing to the dilapidated nature of the Official Residence of the country's Head of State/Commander in Chief.


Newsday was told that following Friday's heavy showers, the roof and wall facing the Botanic Gardens, collapsed. No one was reported to have been injured and there was no confirmation, up to late last night, on whether or not President George Maxwell Richards was on the compound at the time of the incident.
In fact, what is amazing, is that there has been no official statement from the Government on what can aptly be described as a national shame and disgrace. For several months, President George Maxwell Richards and his wife, Dr Jean Ramjohn-Richards, have been living in a cottage near to their Official Residence.
Not too far away from President's House is the posh Prime Minister's Official Residence and Diplomatic Centre at La Fantasie.
Full Article : newsday.co.tt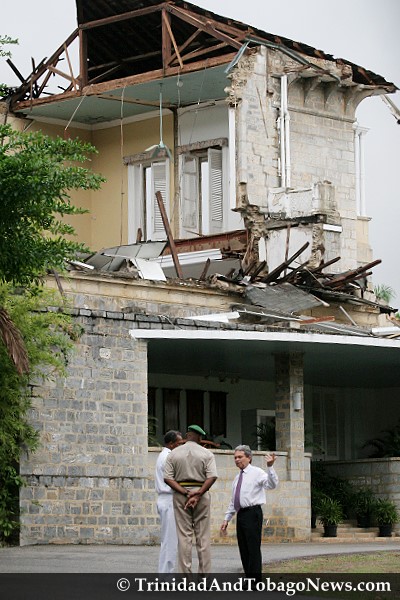 Max's roof caves in
Imbert: Structure old
By Jensen LaVende
Monday, May 17th 2010
PART of the roofing of a building located on the compound of President George Maxwell Richards's official residence – President's House, St Ann's – collapsed yesterday morning.
The collapse is said to have occurred around 1.30 a.m., according to sources at the residence. The source added that crashing sounds were heard coming from the area where the roof caved in during the course of the day on Saturday, indicating that 'things were falling off the shelves'.
President Richards and his wife, Dr Jean Ramjohn-Richards, were said to have been fast asleep and did not venture out of their home, located to the back of the building, during the incident.
Full Article : trinidadexpress.com