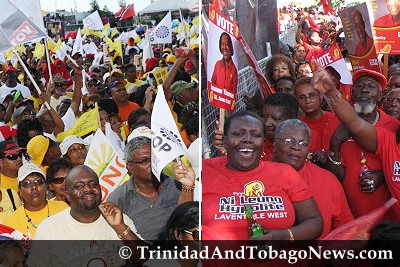 By Raffique Shah
May 09, 2010
Contrary to what over-exuberant party fanatics trumpet during and after mass meetings, crowd-attendance at most of these seasonal gatherings has been disappointing. At Couva last Thursday, for example, I arrived at the People's Partnership (PP) in time to hear Rudy Moonilal (I believe) and Jack Warner refer to the '8,000 people gathered here tonight'. If there were 3,000 persons, the PP could count itself lucky.

On returning to my vehicle and listening on the radio, this time to the People's National Movement (PNM) in Chaguanas, I heard PNM leader Patrick Manning give what he said was a police report on the PP meeting: 1,800 people. And the PNM's numbers in Chaguanas? No less than 6,000, Manning said. I immediately halved that and factored half-of-the-half as constituents from afar bussed into the heartland.
Gross over-estimation of crowds at such meetings is nothing new. Crackpots like Baboolalsingh who campaigned in the 1970s would have had no one else but his wife attending his 'meetings'. Clearly, he could not inflate numbers. But what of the 40,000 the PP claimed to have attracted in a car park (and its periphery) that can barely hold 15,000, 'jam-packed', as Trinis would say? The PNM's Ralph Maraj runs out of 'zeros' when he chairs meetings which fewer than 3,000 attend.
In today's glitzy, flag-waving campaign, gross over-estimation of crowds can hurt both candidates and supporters come elections day. They would expect huge turnouts and massive victories, only to be disappointed when bogus numbers fail to materialise in votes.
This is not to suggest the two main contenders won't rally significant support on polling day. Live telecast and radio broadcast of almost every meeting mean that more people are 'attending' meetings from the comfort of their homes. Given the hype surrounding these uncalled-for elections, I shan't be surprised if voter-turnout on May 24 is more than 60 per cent.
At this stage, I maintain that the race is a close one-which is bad news for Mr Manning. Let's face it: Kamla and the PP have nothing to lose, since the PNM will hardly win any of the 15 constituencies the United National Congress (UNC) currently holds. This suggests that Patrick could be in trouble, whatever the results of the elections. But let us wait until the ballots are counted before calling this one.
I promised readers to deal with some of the main issues that the parties should address, issues that impact on the entire population. Runaway crime remains at the top of the list. The PNM's approach is interesting. Mr Manning is convinced that rampant crime has one root cause-drug trafficking and drug dealing. He thinks all gang-related murders are hinged on the battle for 'drug turf'. I think he is wrong.
He pins almost all his crime-fighting hopes on keeping our porous borders secure. To this end, he boasts of an all-seeing airship, radar that covers 360-degrees around our islands, and the various FPBs and OPVs the Coast Guard is being equipped with. In my view, his analysis is seriously flawed. I agree that drug trafficking and the concomitant illegal arms trade must be seriously addressed. But I also argue that drug-runners from Venezuela and Colombia who use this country mainly as a transhipment point (drug abuse has declined in this country) can get around all the systems the PM is banking on. Maybe Manning should use his OAS clout to get some advice from Mexico's President Calderon. Drug-runners have turned parts of that country into a veritable war zone.
When bandits in their hunt for quick cash commit robberies by the scores, if not hundreds, on a daily basis, where is the drug connection? These are no-goods whose sole aim is to relieve law-abiding citizens of their property. If they must, they would kill in pursuit of their aims. Besides gold and cash, cellphones and laptop computers are prized loot. They sell these items easily to people without consciences, people who do not care if blood was spilt in the process, as long as they get 'ah bargain'.
Whereas non-gang-related murders are fewer, the crimes described above are rampant. What is the connection between illegal drugs and robberies or burglaries? These criminals are driven by a combination of poverty, greed, materialism and consumerism. They may also use drugs, but that's incidental to their evil designs.
Kamla's crime-busting strategy begins with 'holding the police accountable for the effective delivery of their services (and) establishing clear and measurable benchmarks for crime reduction and containment.' How does she propose to effect such changes in a service in which officers are insulated by archaic regulations?
She proposes, too, 'to set up a real time centralised system for tracking crime. This will include GPS technology in every police vehicle.' With guns, drugs and other court exhibits disappearing from police custody with alarming frequency, what's to say GPS sets won't mysteriously disappear from police vehicles? And GPS bracelets for offenders on probation? Is she ready to face Ramesh Maharaj and Anand Ramlogan in court?
There are no quick-fix solutions to our crime problems. Or should I say there are, but they may be unpalatable to all but those who believe the end, quite literally, justifies the means. I say no more.