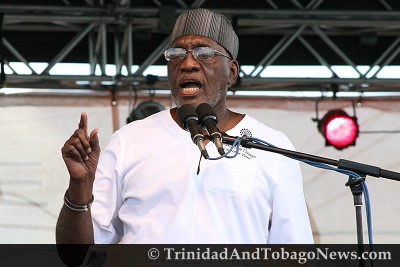 RCs scoff at PM's demand for Daaga apology
Members of the Roman Catholic Church are distancing themselves from comments made by Prime Minister Patrick Manning that Makandal Daaga should apologise for his role in the 1970 desecration of the Cathedral in Port-of-Spain.

RC priest: No problem with NJAC
Senior member of the Roman Catholic Church, Monsignor Christian Perreira, said yesterday that there was no indication that National Joint Action Committee's (NJAC) action in the Cathedral of the Immaculate Conception during the 1970 Black Power uprising was considered as a 'desecration' of that sacred place.
A message to the contenders
At this stage in Trinidad and Tobago's history, politicians should be well aware of the dangers of using race and religion to win votes. Alas, many words to the wise have not been sufficient. People's National Movement (PNM) leader Prime Minister Patrick Manning in one evening managed to invoke both bogeys: first, by using the term 'her own kind' in reference to Kamla Persad-Bissessar; and then by warning Christians to be wary of United National Congress (UNC) coalition member Makandal Daaga because of the alleged desecration of the Roman Catholic cathedral 40 years ago.
Daaga: PM offered me Chaconia Gold
Prime Minister Patrick Manning had offered National Joint Action Committee leader Makandal Daaga, the country's second highest award – the Chaconia Gold — "a few years ago".
Black Power Catholics
"I am a Black Power Catholic!" This is how "teacher-calypsonian" Chalkdust (as the press had taken to calling him) described himself back there in the steaming 70s when Makandal Daaga's National Joint Action Committee (NJAC) brought tens of thousands into the streets to protest entrenched white privilege in Trinidad and Tobago.
Making daggers at Daaga
NATIONAL Joint Action Leader Makandal Daaga on Wednesday night thanked those who have risen to his defence after he was dealt some jabs by Prime Minister Patrick Manning on Tuesday.
***
'Manning distorting events of Black Power in 1970'
Deputy political leader of the National Joint Action Committee (NJAC) Embau Moheni says Prime Minister Patrick Manning on the campaign trail is misrepresenting the events of the 1970 Black Power movement.