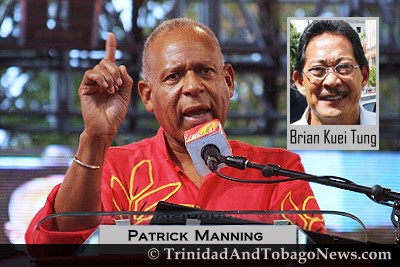 Keui Tung sold out PNM
By Yvonne Webb
Published: 5 May 2010
Prime Minister Patrick Manning last night fingered former UNC minister Brian Keui Tung as the person who sold out the date of the 1995 election to former Prime Minister Basdeo Panday.

Speaking on a political platform on Harris Promenade, San Fernando, last night, Manning said he would reveal the PNM person who sold out in due course. Manning described as a bad mistake when he and six PNM members met in San Fernando and decided to call an election and set a date. He said they decided to use the element of surprise and keep it a secret from the Opposition.
"Unknown to us, and I would say it tonight, one of those six persons who was present, within days, went to a gentleman called Brian Keui Tung and told him the plan. "By that time he was with Mr Panday and we did not know," Manning said, pointing out that the rest is history as PNM lost the election.
Full Article : guardian.co.tt
***
Manning living in the past
FORMER Trade, Industry and Tourism Minister Brian Kuei Tung yesterday expressed surprise that his name had been called by Prime Minister Patrick Manning at a PNM rally in San Fernando on Tuesday night, as the person who leaked to the opposition UNC, that Manning was planning to call a snap general election in 1995. "It seems he is living in the past and I don't know what excuse he is going to issue when he loses this general election…which he is going to lose big time. If he said he was sold out in that snap election (of 1995) it was his arrogance that sold him out," Kuei Tung said.