Reporting by Adrian Boodan
www.guardian.co.tt
July 26, 2007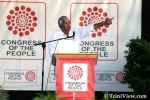 Laventille residents will be heading Central if Prime Minster Patrick Manning is serious about the State's plans to purchase their property, says Devant Maharaj, Congress of the People's (COP) prospective candidate for Couva South.
Manning spoke of redeveloping Laventille during a walkabout in the area on Monday.

Maharaj—president of Global Organisation for People of Indian Origin (Gopio) and executive member of the Sanatan Dharma Maha Sabha—made his debut on a COP platform on Tuesday night in Chaguanas West.
Speaking on the compound of the defunct Chaguanas Prestige School, Maharaj reminded the gathering of the PM's plans to establish "mixed communities" in Central.
Maharaj said Manning still had not clarified how he planned to do this.
"Where will these people be coming?" Maharaj asked.
And responding to his own question, he said, "I am sure that they will be your neighbours next door in Central.
"We have heard the Prime Minister talking about mixed communities…up to now he hasn't defined what that means," Maharaj said.
He said if the People's National Movement (PNM) is returned to power it spells doom and gloom for the people of this country.
Maharaj said he decided to enter the political arena because of the state of the judiciary and the abuse of power by the PNM.
Speaking about his own experience, Maharaj said he had to take the State to court when the PM stepped in to block his promotion at the National Lotteries Control Board.
He said he joined the COP because the UNC was not interested in fighting when George "Umbala" Joseph made certain remarks about United National Congress (UNC) supporters on a radio talk show.
Maharaj also claimed that the PNM Government was going all out to frustrate the Freedom of Information Act in a bid to block PNM corruption at the highest levels.
The Gopio head further called on Justice Lionel Jones, chairman of the Police Complaints Authority, to step down.
He said Jones had been unable to act on complaints.
Maharaj said the commission was five years and 1,500 murders too late.
http://www.guardian.co.tt/news2.html